Beyerdynamic MMX 300 Professional Gaming Headset 2nd Gen Review
Author:

Darren McCain
Published:
Wednesday, February 14, 2018

Introduction
As PC enthusiasts we often spend hours researching parts and agonizing over upgrades to get that extra edge when it comes to performance. Still in many builds the audio, most often headphones, are an afterthought. A good pair of headphones like the Beyerdynamic MMX 300 Professional Gaming Headset will not only bring a good game to life, they can also provide that competitive edge when it comes to gaming.
Beyerdynamic may not be a familiar name to many gamers but they are one of the oldest manufacturers of high-end headphones with a solid reputation amongst audiophiles. The MMX 300s was built to bridge a gap and please both serious gamers and audiophiles alike. As the most expensive gaming headphones in the lab, let's find out if they measure up!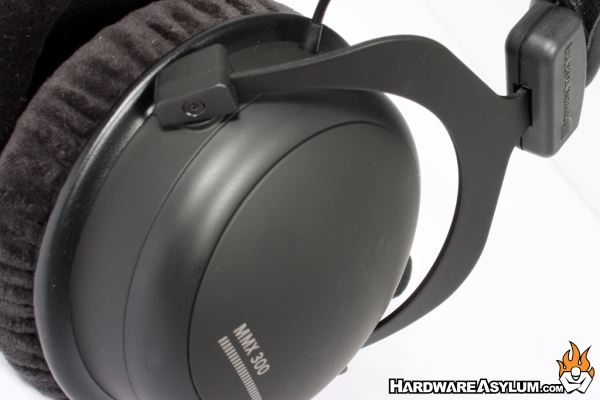 Hand crafted in Germany, the MMX 300 is based on the design of the popular HS 400 SIGNUM Aviation Headset and is now in its second generation. This new generation of MMX 300 adds a detachable cable and a much requested inline control box with Mic on/off, push to mute, and volume controls.
Not surprisingly Beyerdynamic avoids the current trend of LED lighting and flashy colors and offers the MMX 300 headset in a black on black color style very similar to their high end audio offerings. For those craving some flash can step down to the Beyerdynamic Custom Game Interactive Headset which are targeted at the console crowd.
Features
Closed stereo headset with cable remote control made in Germany
Excellent intelligibility of speech due to high-quality microphone capsule
Silky-soft ear pads made of micro fiber ensure a pleasant comfort of wearing for many hours
Supplied with transport case for safe storing, 1/4" jack adapter, 1.2 m [3.9 ft] long cable for the use with consoles and a 2.5 m [8.2 ft] long cable for the use with a PC
Specifications
Transmission type: Wired
Remote: Universal 1-button remote
Nominal impedance headphones: 32 ohms
Headphone frequency response: 5 - 35,000 Hz
Nominal sound pressure level: 96 dB
Polar pattern for microphone: Cardioid
Transducer type for microphone: Condenser – Cardioid
Construction: Circumaural (around the ear)
SKU: 718300
EAN: 4010118718304
Cable & plug: Stereo jack plug 3.5 mm (1/8") & ¼" adapter (6.35 mm)
Various accessories and spares can be found on the beyerdynamic website
Beyerdynamic is the most famous division of the German audio company GmbH & Co. KG. Established in 1924, the family owned Beyerdynamic is the oldest audio company that remains active and is credited with the world's first headphones designed for public use in the 1930's and arguably the world's first high-fidelity headphones shortly after. Beyerdynamic is credited with many other innovations in audio technology and is widely known today for their award winning dynamic headphone designs.