Beyerdynamic MMX 300 Professional Gaming Headset 2nd Gen Review
Author:

Darren McCain
Published:
Wednesday, February 14, 2018

MMX 300 Gaming Headset Features Continued
The build quality on the MMX 300s is definitely representative of a high end, hand built expectation. A full anodized metal frame provides the foundation and can be gently bent to adjust the clamping pressure as needed. Even the fasteners are anodized to match.
Another nice feature is the removable padded headband that is user replaceable and adjustable with a strip of Velcro holding it in place. Having replaceable padding definitely adds to the longevity of the headset and further enhances the standard 5 year warranty.
Our MMX 300 shipped with two separate cables, a premium carry case and a 6.35 mm jack adapter. The carry case (not pictured) is a solid shell design with a zipper closure and a small accessory pouch that can be removed inside.
Two different cables are included; a 1.2 m (3.9 ft) 4 pole cable with remote control for console/portable use and a 2.5 m (8.2 ft) cable with remote control for PC use. All of the cables are covered by a thick plastic coating and ends appear to be gold plated.
Both cables have the inline remote that feature a mic switch, inline volume and a large mute toggle. The mute toggle is a push to mute handy for quick mutes when in game. The PC cable terminates in a dual plug for headphone/mic plugs common in PC and sound card functions.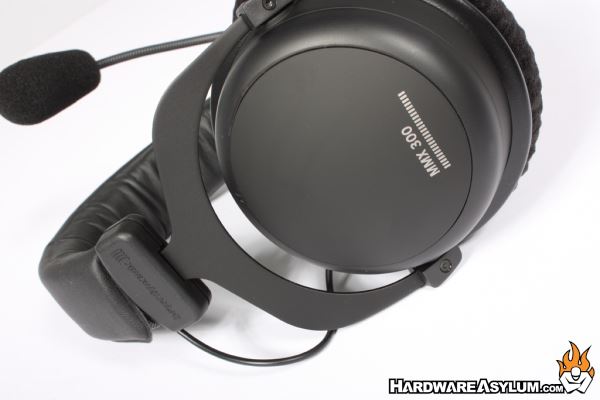 Based on my initial usage I am very tempted to compare the Beyerdynamic MMX 300 to my audiophile headphones and frankly they would do well. I found they respond well to both standard motherboard power and when hooked up to a dedicated amplifier like my Silverstone Amp/DAC. Fortunately the 32 ohm design doesn't need much power and should work well in any environment.