Beyerdynamic MMX 300 Professional Gaming Headset 2nd Gen Review
Author:

Darren McCain
Published:
Wednesday, February 14, 2018

Beyerdynamic MMX 300 Layout and Features
At the Asylum we rarely include prices in a review as the market can change dramatically between when an article was written and when it gets read. In this case I think it is important to stress the MMX 300 headset is easily the most expensive gaming headset we have used with a current MSRP of $349.99 USD.
This price puts it into entry level audiophile headphone territory. And that is no accident.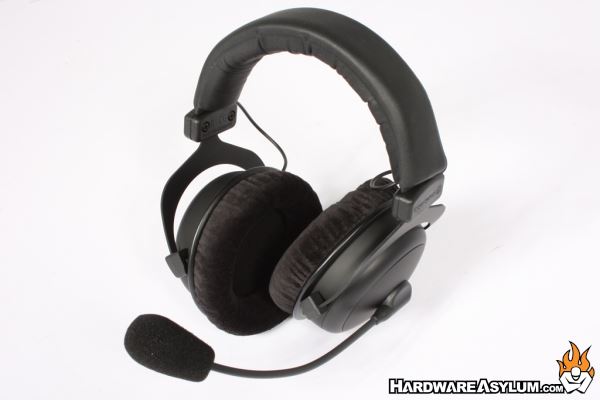 The MMX 300s are a closed back, dynamic 32-ohm design and weigh in at 332g. The Circumaural ear cups are larger than the typical gaming headset with an elongated exterior about 4 inches across. They are definitely lighter than you expect.
The Condenser - Cardioid microphone is a fixed design with a lot of flexibility built in. The mount is able to rotate for both left and right side use. As mentioned above, the microphone is based on the aviator design of the HS 400 Signum Aviation Headset and enclosed in a good size pop filter.

Typical Hi-Fi headphones have a wide range of frequency response and total harmonic distortion graphs available at release but, I only found the above frequency response graph from the manual at the time this was written. Some research reveals the data for the MMX 300s most closely resembles their Hi-Fi headphone brothers, the legendary DT 770 Pro.
A thick microfiber or velour covered pad provides a comfortable seal that isolates noise well without clamping down too tightly. Beyerdynamic rates the ambient noise attenuation at approximately 18dBA. Due to the shared heritage, Beyerdynamic has a variety of aftermarket pad choices including memory foam and leather. The factory pads are quite large and one of the most comfortable fits I have experienced even among any headphone.