Sound BlasterX AE-5 Pro Gaming Sound Card Review
Author:

Darren McCain
Published:
Friday, September 08, 2017

Sound BlasterX AE-5 Pro Gaming Sound Card Layout
The BlasterX AE-5 looks to be the first of Creative's 7th Generation of sound cards building on the highly successful Sound Core 3D engine first found in the Recon3D series and more recently in the Z Series.
While the top of the line Sound Blaster ZxR featured audiophile friendly options like swappable op-amps and a daughter board, the AE-5 is a bit more mainstream with no hardware configuration options available. It is likely these may come with a limited edition run or in future higher end models.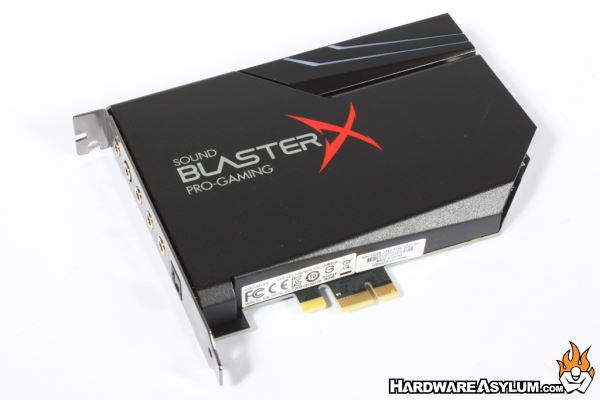 The AE-5 is much smaller than my previous sound cards measuring in at a trim 145 x 20 x 128 mm (~5.7 x .8 x 5 inches) and fitting in a single PCIe slot. I have to admit I was beginning to wonder if I would ever need those pesky small PCIe slots for anything useful. The card is even short enough to tuck under my video card water loop with room to spare.
Both the AE-5 models have a top RGB section with two programable stripes and a BlasterX logo on top. Here is a preview of that pretty white Pure Edition with its black BlasterX branding. I have to admit it makes a bold statement that might just find a home in our upcoming pearl while system build.
The back of both editions is done in this black and white pattern with the light up logo on top. This means the side that typically faces up will benefit from the RGB lighting to pick up any colors you throw at it.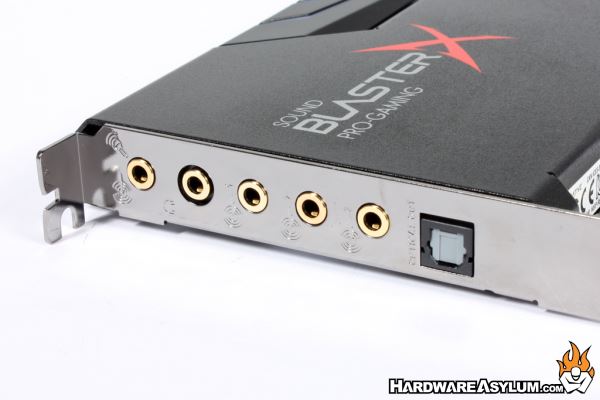 Connection options run the more traditional 5.1 sound card direction. From left to right: Line in/Mic in, Headphone (both 3 and 4 poles supported), Front L/R, Rear L/R, Center/Subwoofer, Optical out.
I have to admit I had hoped for a few more options due to the included DAC and 7.1 labeling. The Sound Blaster ZxR and even my X-Fi powered Auzen Prelude 7.1 card comes with included options for recording inputs. Still that sort of additional functionality isn't for everyone and would definitely affect the price!
RGB lighting can be a bit polarizing but it does have it's place in many enthusiast builds. Creative has done a nice job in incorporating the Aurora Reactive lighting into their most recent products. Paring these 16.8 million reactive colors to the unified driver can create a light show that syncs across both your internal and external Creative products. The end effect is one of the best GRB implementations I have ever seen.
Creative separates the built in RGB lighting from the included light strip via the software making both optional. The white external light strip is about 305mm (~12 inches) long and contains 10 super bright LED lights. Each strip can be magnetically attached to the case or affixed using the included 3M adhesive strip. Additional light strips will be available from Creative soon to bring the supported number of strips up to the Pure model's four.
The external strips connect to the white four pin socket on the top of the card. The power lead is black and about a foot long making placement across the top or bottom of the case possible in most builds. Placing the socket on top is a bit of an odd decision as it makes it very visible in windowed builds and hiding the cable completely is not an option.