Sound BlasterX AE-5 Pro Gaming Sound Card Review
Author:

Darren McCain
Published:
Friday, September 08, 2017

Introduction
It's hard not to feel like the stand alone sound card is a bit of a relic in today's world of feature rich enthusiast motherboards. High end motherboards like my GA-X99 Gaming 7 come with swappable OP-AMPs and a pretty killer onboard Creative Sound Core3D quad-core audio processor. With sound like that It may seem there is really no need to look further but, you can only so much and still maintain a balance between cost effective and reasonable features.
For those of us who crave just a little bit more the Creative BlasterX team has released their first new sound card in nearly 5 years, the Sound BlasterX AE-5 pro gaming sound card. The BlasterX AE-5 isn't just a gaming sound solution, it's also a true enthusiast level AMP/DAC.
Was it worth the wait? Let's find out!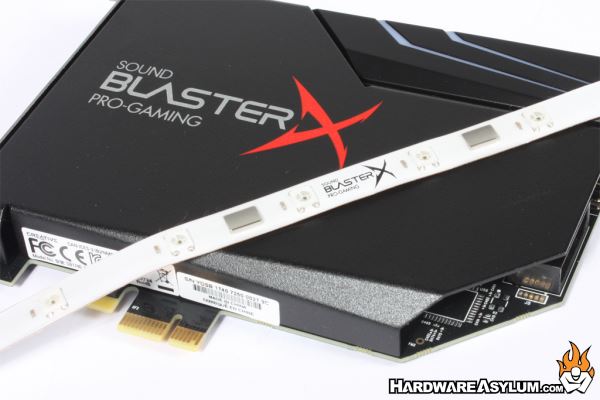 The Sound BlasterX AE-5 Pro Gaming Sound Card, or maybe more correctly the Sound BlasterX AE-5 Hi-Resolution PCIe Gaming DAC with Discrete Headphone Amplifier, is a single slot PCIe x1 sound card with integrated RGB Aurora lighting. Our AE-5 wears a black cover decorated with the Sound BlasterX logo to hide the PCB components and a single external RGB lighting strip. Creative has already announced a Pure Edition with a white cover and a total of four external LED light strips as an alternative.
On the surface the BlasterX AE-5 is simply a high end 5.1 sound card using the award winning Sound Core3D engine. But a closer look at the features tells a different story:
Features
122DB DNR Sabre32 Ultra Class DAC for up to 32-bit 384kHz playback with a 122dB DNR
Xamp, Our custom-designed discrete headphone amplifier with ultra-low 1Ω output impedance to drive 16-600Ω headphones
Aurora Reactive Lighting System allows up to 16.8 million colors in different patterns onboard and through the external controller
Industry Leading Audio Processing with the BlasterX Acoustic Engine suite
All new Scout 2.0, the world's first smart gaming companion that enables you to visualize and see where enemies are on the radar through your mobile device
Specifications
Power - PCIe bus power, +5V for Aurora lighting (requires 4-pin molex peripheral connector from PC power supply)
Audio Technology - BlasterX Acoustic Engine
Dynamic Range (DNR) - 122dB
Connectivity Options (Main) - 1 x 1/8" (3.5mm) Mic In/Line In, 1 x TOSLINK Optical Out, 1 x 1/8" Front Out, 1 x 1/8" Rear Out, 1 x 1/8" Center/Sub Out, 1 x 1/8" (3.5mm) Headphone/Headset Out
Connectivity Options (Accessory) - 1 x Front Panel Header, 1 x RGB LED Header (support 5V RGB strips)
Audio Technologies - CrystalVoice, Scout Mode
Supported Operating Systems - Windows® 10, Windows® 8.1, Windows® 8, Windows® 7
Dimensions - 145 x 20 x 128 mm
Platform – PCIe
Creative is the worldwide leader in digital entertainment products. Founded in Singapore in 1981, Creative started with the vision that multimedia would revolutionize the way people interact with their PCs.
Famous for its Sound Blaster sound cards and for launching the multimedia revolution, Creative is now driving digital entertainment with cutting-edge audio solutions, premium wireless speakers, high performance earphone products and portable media devices. The company's innovative hardware, proprietary technology, applications and services enable consumers to experience high-quality digital entertainment - anytime, anywhere.
Since launching the phenomenally successful Sound Blaster sound cards and setting the de-facto standard for PC audio in 1989, Creative has been able to leverage on its leading-edge audio technology, a huge user base of 400 million, and strong brand name to expand into the exciting lifestyle Personal Digital Entertainment (PDE) market.