Sound BlasterX AE-5 Pro Gaming Sound Card Review
Author:

Darren McCain
Published:
Friday, September 08, 2017

Testing and Conclusion
Testing audio quality is very subjective and cannot be measured without thousands of dollars' worth of equipment. Even then, no two people hear sound quite the same way. Still comparing audio provides a way to determine how clearly you might hear different instruments on a music track or how well you can identify direction in a surround sound game.
For real world testing I connected my trust Sennheiser PC 363D headphones in and played some extended sessions of 7 Day to Die. Ambient sound clarity was outstanding making for some unexpected jump scares! Coming right from the Sound Blaster X7 still gave a noticeable improvement to clarity I did not expect.
The same could be found with a couple sessions of Battlefield 1. I fired up scout mode on my android tablet and found it a fun diversion that I really need to spend more time on. This could become a game changer. Directional sound was outstanding it almost feels like cheating!
To test audio I used my Sennheiser HD 6xx speakers in Directc HP mode and in the concert preset. The HD 6xx headphones are a industry recognized 300ohm setup that really thrives under the individually amplified audio channels. Paired with the Sabre32 DAC they simply come alive! I fired up some of my favorite FLAC recordings. As always, I like to start with a little Pink Floyd to get a good impression of the richness of the sound stage. Time and Money sound better than ever with clear separation making the AE-5 my new favorite DAC! The improvement over my X7 setup was so noticeable I soon ran through dozens of FLAC tracks to check out the sound stage differences. Most were subtle but all were noticeable. Heck they even sound great in games!
RightMark Audio Analyzer
No Audio DAC review would be complete without a sound test and for this I used the RightMark Audio Analyzer. This test was performed using a loopback cable which is basically a jack that connects the analog line-out plug back into the analog line-in. That way we can remove almost all of the variables and concentrate on what is actually being reproduced and recorded.
Summary
Frequency response (from 40 Hz to 15 kHz), dB: +0.04, -0.10 - Excellent
Noise level, dB (A): -96.7 - Excellent
Dynamic range, dB (A): 97.2 - Excellent
THD, %: 0.0085 - Very Good
THD + Noise, dB (A): -79.6 - Average
IMD + Noise, %: 0.010 – Very Good
Stereo crosstalk, dB: -94.1 - Excellent
IMD at 10 kHz, %: 0.010 - Very Good
General performance Very Good
For the RightMark test I disabled all of the audio processing and set the output to Stereo. Both input and output frequency response defaulted 24-Bit/48kHz which not only would provide excellent sound but also allowed the input and output sampling to be the same.
Looking back on previous Sound Blaster products or any sound cards really, the Sound BlasterX AE-5 simply sounds better as confirmed by the RightMark results above.
Conclusion
It may have taken Creative 5 years to put out the AE-5 but the results show they have been busy. Moving from onboard sound to a good external Amp/DAC used to be the only option to get a true audiophile experience from your PC. Thanks to the AE-5 we now have a good internal option to give you that and more. I may have to invest in a good mic as the AE-5 makes my power hungry HD 6xx headphones dance!
Simply put, the Sound BlasterX AE-5 is a step above every sound card device we have tested to date. If you are looking for the next step to raise your audio game or simply looking to power a set of audiophile level headphones you have come to the right place.
Good Things
Class leading sound quality
Outstanding built in DAC
Built in dual channel Xamp
Easy to use software controls
Expandable RGB lighting
Bad Things
Molex connection required for light strips to function
Weird location for the RGB Led light plug
No pass throughs
Can't hardware upgrade
Hardware Asylum Rating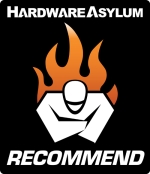 Sound BlasterX AE-5 Pro Gaming Sound Card Review
Recommend
https://www.hardwareasylum.com