Sound BlasterX AE-5 Pro Gaming Sound Card Review
Author:

Darren McCain
Published:
Friday, September 08, 2017

BlasterX Software
Creative continues to add devices to their new unified driver suite called Sound Blaster Connect 2. This makes controlling their latest generation a one stop shop making it easy to sync another supported product like the Sound BlasterX Katana or iRoar.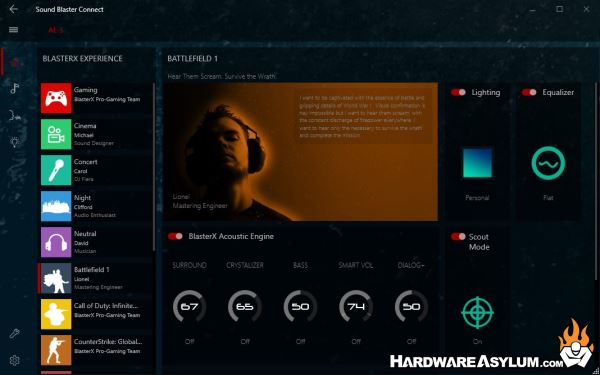 The Sound Blaster Connect2 software divides the functionality into four major areas displayed as icons on the left side: Dashboard, Sound, Voice and Lighting. At the bottom left you can access Settings and Setup.
In the latest version there are 13 sound profiles preprogrammed by Creative's team of audio engineers. Highlights include Neutral for a unprocessed pass through, Concert and Cinema. Specific profiles are available for many popular games including Battlefield 1 and Overwatch. Hopefully more profiles will appear over time but a manual profile is available for any additional setup needs.
Quick access is also provided for the lighting, equalizer, Scout Mode, BlasterX acoustic Engine and voice if a microphone is plugged in. Each of these areas can be accessed individually as well for more fine tuning.
Choosing the Sound option brings you to the equalizer. While most of the built in profiles have custom EQ settings a selection of the typical presets is available in the drop down. Tuning is as simple as click and drag with the mouse.
Next is the Acoustic Engine. A set of four virtual dials give you control over the Immersion, Crystallizer, Smart Volume and a Dialog boost. The Crystallizer is designed to restore audio and is the only tool that can be completely turned off.
Scout Mode 2.0 Is the latest version of Creative's positional radar. Version 2.0 enables you to visualize and see where enemies are on the radar through your mobile device for any first person shooter game. It is clever and a decent sized screen makes a nice addition to games with 3D sound.
Switching over to the Voice tab provides access to the noise reduction features of the microphone input. It also provides access to the usual batch of voice morph settings if you are into that stuff. A selection of 18 effects are available to amaze and annoy!
The Lighting section has been updated to include functionality of the RGB controller. Lighting can be individually controlled for both the logo lighting on the card and the external lighting strips. Just like the sound profiles there are 10 preset profiles for your lighting and four are stored directly in the driver. Customization options include speed of lighting changes, direction, type of motion and of course, color selection.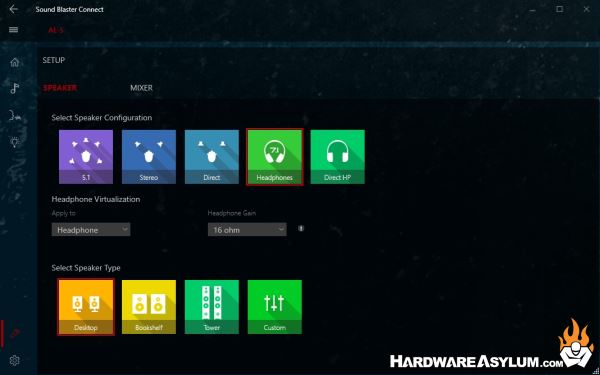 Setup provides speaker configurations using simple profiles. If you own a Creative headset, you will find a specific setup for your model preloaded. If not, you will see the options to setup your headphones or speakers including a Gain option. Selecting the Direct HP icon will disable DSP for a pure audio experience.