Creative Sound BlasterX G6 7.1 External Gaming Audio DAC Review
Author:

Dennis Garcia
Published:
Thursday, December 06, 2018

Introduction
Sound cards come in many shapes and sizes and have changed quite a bit since the early days of computing. Just about every motherboard comes with a sound card onboard and for many of the audio solutions are a major selling point of the board. For the casual gamer rocking a custom PC the onboard solution is usually good enough. However, as a hardware and audio enthusiast the stock just won't do and Creative has two very awesome solutions for the audio dilemma.
We have reviewed both of these solutions before. The first was the Sound BlasterX G5 followed by the Sound BlasterX AE-5 and In terms of specifications these products are very similar. They both feature DAC level audio processing and are controlled by the Sound Blaster Connect software package. Despite the similarities the BlasterX AE-5 is designed to be a PC based audio processor supporting RGB LED lighting and ports to power external desktop speakers and connect to front panel controls. On the flip side the BlasterX G5 is an external audio solution for gaming headphones with the typical usage being game consoles, PCs and mobile devices.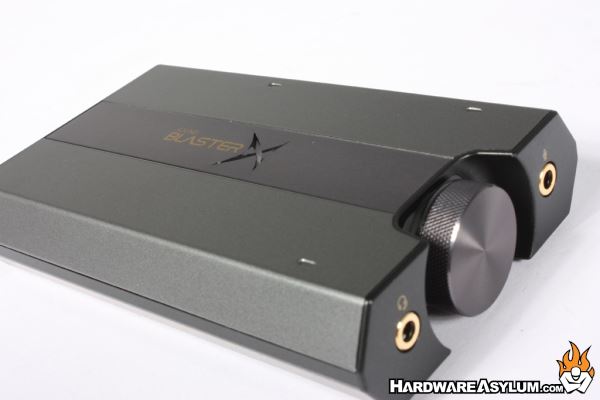 In this review I'll be looking at the upgrade to the Sound BlasterX G5 the Creative Sound BlasterX G6. The BlasterX G6 is not a ground up refresh but more of a tweak to deliver better audio quality at the hardware level and more control in the software. Like before the New Sound BlasterX G6 is is an external sound card and headphone amplifier which can be used on a variety of different systems including the PC, Mac, Android, iOS, PS4, Nintendo Switch and Xbox One.
The versatility of the G6 is in how it connects to the various different systems supporting USB and optical connections to deliver amazing audio features beyond what the base system can support.
Specifications
Signal-to-Noise Ratio (SNR) 130dB (DAC)
Connectivity Options
- (Main) microUSB
- Line / Optical In: 1 x 3.5mm jack
- Line / Optical Out : 1 x 3.5mm jack
- 4-pole Headphone-out with Mic: 1 x 3.5mm jack
- Dedicated Mic In : 1 x 3.5mm jack
Headphone Amp Up to 600 Ohms
Max Channel Output Stereo
Audio Technology: SB-Axx1
Audio Technologies Scout Mode
Supported Operating Systems Mac OS X v10.8 and above, Windows® 10, Windows® 8.1, Windows® 8, Windows® 7, Windows Vista®