Creative Sound BlasterX G6 7.1 External Gaming Audio DAC Review
Author:

Dennis Garcia
Published:
Thursday, December 06, 2018

BlasterX G6 Layout and Features
The Sound BlasterX G6 is an external sound card and headphone amplifier. If hooked into a PC it can be its own sound device or can operate as a pass thru amp when hooked into a gaming console or mobile device.
Starting with the input side we have two line level and optical connections. These are digital connections for both audio In and Out. The input signal will accept audio from a game console while the output is used to send processed audio to a speaker system or external amplifier.
This allows you a chance to introduce the Creative audio processing before being sent to your headphones or external sound system.
One of the upgrades to the Sound BlasterX G6 is that there is only a single MicroUSB connection for primary power and data. It is also the primary connection when connected to a PC, PS4 and Nintendo Switch. If using the Xbox One you'll need to use any standard USB power adaptor to power on the device.
Along the front of the BlasterX G6 you will find two 3.5mm audio jacks and a large volume knob in the middle. Of course Creative would suggest their excellent BlasterX H5 Headset but, you could use any headphone and mic combo from an all in one gaming headset to a high-end studio hearphone and standalone microphone.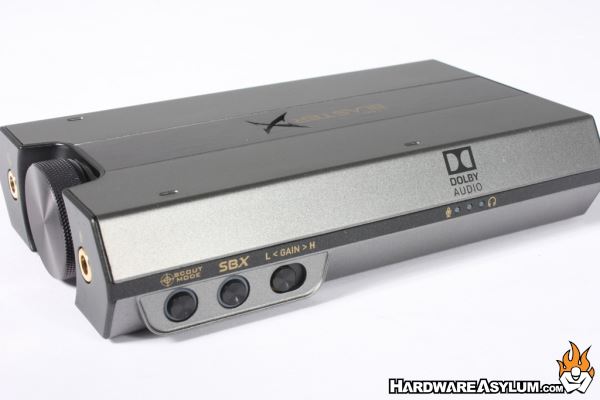 Internally the G6 is filled with audiophile grade hardware similar to the previous generation G5. Some of the biggest upgrades include an improved 130dB signal to noise ratio when used as a DAC, 32-Bit / 384kHz playback quality and a headphone amp impedance of 1 Ohm and support for headphones ranging from 16 Ohms up to 600 Ohm.
You will find two buttons next to the gain switch and control to important aspects of the G6 including scout mode and SBX Profiles. Both buttons work with the SB-Axx1 audio processor and enable the hardware accelerated audio enhancements. Scout mode is either on or off while SBX will toggle between a whole list of audio profiles depending on the type of game you are playing and your audio preferences.
The lights to the right indicate which profile is selected and which audio inputs have been detected.
Just for the sake of comparison I have pictured the new G6 next to the existing G5. The G5 is the darker device and is otherwise visually identical. They say if something works you shouldn't fix it and for this external DAC headphone and amplifier I think that was a good decision.