Creative Sound BlasterX G6 7.1 External Gaming Audio DAC Review
Author:

Dennis Garcia
Published:
Thursday, December 06, 2018

Sound BlasterX G6 Software
The Sound BlasterX G6 uses the new unified software package called Sound Blaster Connect and is used for both the Sound BlasterX AE-5 and G6. It should be noted that while the software has the same basic features I have determined that you cannot have both installed at the same time. As it would turn out, I installed the AE-5 version and wasn't able to access to the G6, then when I installed the G6 software it was no longer able to connect to the AE-5.
Of course windows knew the difference however, the software did not.
Below are some of the screens from the Sound Blaster Connect software. As you can see there are quite a few profiles to choose from and lots of ways to customize your audio experience.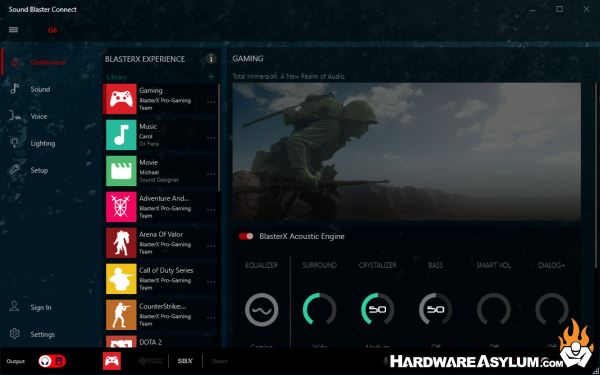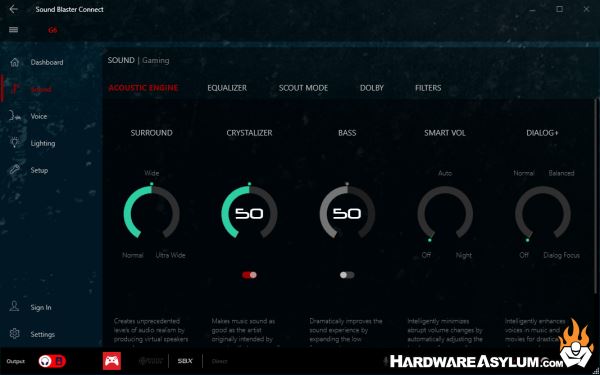 In addition to an upgraded audio processor you will also get RGB LED lighting effects. On the previous model the "X" would light up red when the system was powered on. The new G6 features an RGB LED behind the "X" cutout and is controllable though the software. I didn't have any other Sound Blaster gear in the lab but I suspect this can also be synced across the entire ecosystem.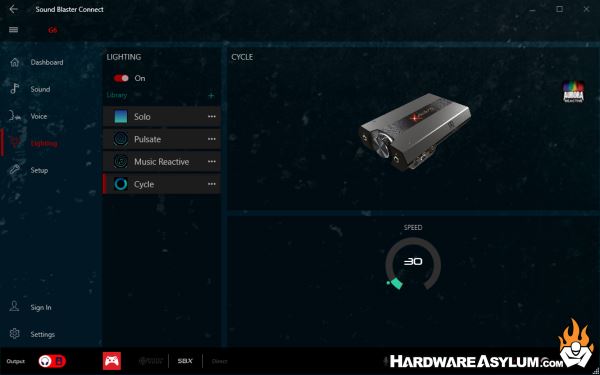 One thing that annoyed me was not having the feeling I was in control over the audio output. Sure you can select your desired audio virtualization between Stereo, 5.1 Channel and 7.1 Channel configuration and even set the individual levels but those controls are separate from the audio profiles.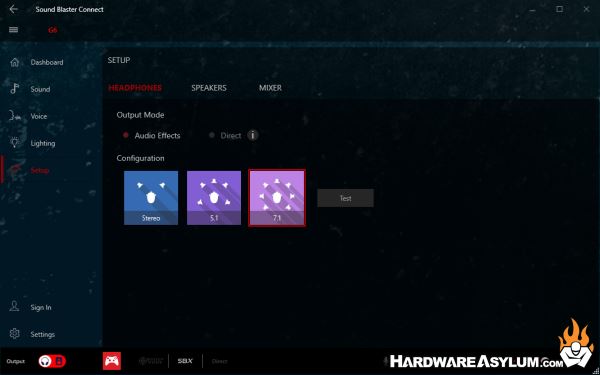 With the older software it seemed that you were given more control over "how" the 7.1 was interpreted by your headphones and the ability to dial the environment better and actually notice the changes real time.
In exchange for this you really do get an easy to use interface with lots of profiles to select from. I suspect this is perfect some as most will likely find a profile they like and never look at it again.