Creative Sound BlasterX Katana Multi-channel Gaming Soundbar Review
Author:

Darren McCain
Published:
Monday, February 20, 2017

BlasterX Katana RGB Lighting Effects
These days everything seems to have LED lighting and the Katana is no exception. Creative has included its Aurora Reactive Lighting System. This system uses a series of 49 programmable LED lights to provide 16.8 million colors for you to customize.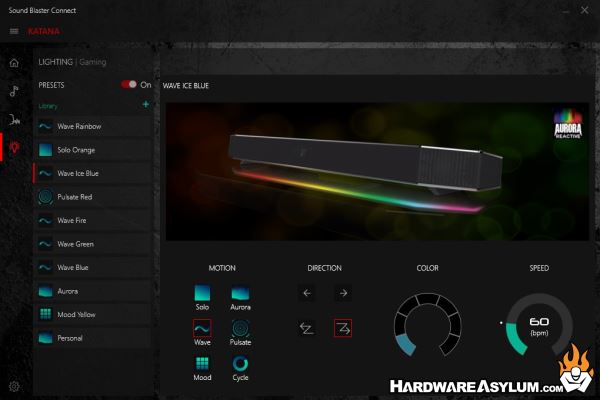 Control for the lighting is found in the last tab of the software. Just like the sound profiles there are 10 preset profiles for your lighting and four are stored directly in the Katana. Customization options include speed of lighting changes, direction, type of motion and of course, color selection. I expected to see a sound activated option and was surprised there isn't one. Not having the lights react to your audio is a real missed opportunity in my book!
The feet of the Katana are angled and hold the sound bar up enough the LEDs have some room to glow like ground effects. I should note that the height is fixed making it harder to fit in front of monitors with a front stand/foot.
This set of pictures shows the LED lights on in rainbow first with the lights on and then with the lights off. The effect is quite nice and not bright enough to be distracting in low/no light situations.
Currently my gaming PC is in a desk with a glass top surface. This gives the Katana an additional level of coolness. The lighting carries through the glass and gives the entire desk a subtle glow.
With the lights off you can see the power and SBX buttons are also accented with lighting to help find them. I am a bit surprised to get buttons for volume over a nice low profile dial. Most of my nicer amp/DAC units go with the single volume knob and somehow it seems more correct.
I want to also call out the front display. All of the settings are echoed on this large easy to read display. It is nice to have them hidden away when not in use as well keeping the whole Katana design clean and uncluttered.