Creative Sound BlasterX Katana Multi-channel Gaming Soundbar Review
Author:

Darren McCain
Published:
Monday, February 20, 2017

BlasterX Katana Driver Software
I installed the Katana for use across the USB from my gaming PC. I was immediately prompted to upgrade the firmware and did so. It was pretty fast. As I am now supporting a Creative sound card on my motherboard, the creative drivers for my X7 and the Katana drivers, I am running three completely different software suites. They don't always play nice giving a string of dll errors at boot. I think the onboard sound is the culprit and plan to disable it going forward but it's a bit annoying!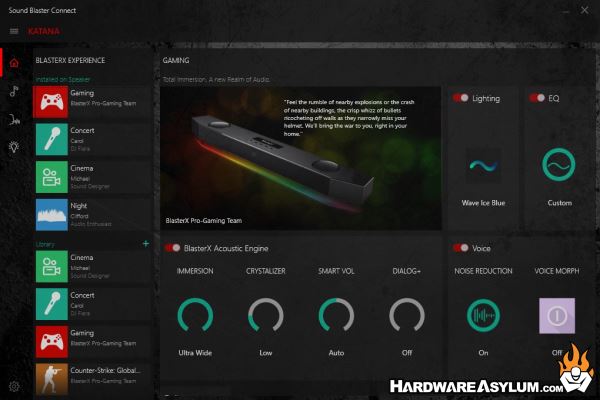 The sound Blaster Connect software that powers the Katana is pretty straight forward. On the home page or Dashboard you have access to all the main functionality in one place. Much like the iRoar, sound profiles are preprogrammed by Creative's team of audio engineers. A total of four profiles can be loaded onto the Katana at once. I am happy to see a Battlefield 1 profile already available for my gaming pleasure!
Quick access is also provided for the lighting, equalizer, BlasterX acoustic Engine and voice if a microphone is plugged in. Each of these areas can be accessed individually as well for more fine tuning.
Choosing the Sound option brings you to the equalizer. While most of the built in profiles have custom EQ settings a selection of the typical presets is available in the drop down. Tuning is as simple as click and drag with the mouse.
Next is the Acoustic Engine. A set of four virtual dials give you control over the Immersion, Crystallizer, Smart Volume and a Dialog boost. The Crystallizer is designed to restore audio and is the only tool that can be completely turned off.
The Dolby tab provides control of the dynamic range. If you don't use the night preset you can fine tune to it here.
Switching over to the Voice tab provides access to the noise reduction feature of the microphone input. The Katana does not have a built in microphone like the X7. It also provides access to the usual batch of voice morph settings if you are into that stuff.