Creative Sound BlasterX Katana Multi-channel Gaming Soundbar Review
Author:

Darren McCain
Published:
Monday, February 20, 2017

Testing and Conclusion
Testing audio quality is very subjective and cannot be measured without thousands of dollars' worth of equipment. Even then, no two people hear sound quite the same way. Still comparing audio provides a way to determine how clearly you might hear different instruments on a music track or how well you can identify direction in a surround sound game.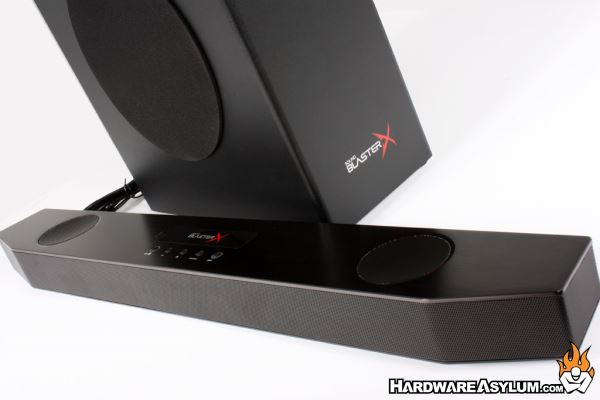 The testing setup will be via USB from my gaming rig. The sub-woofer is under my desk and about four feet directly from my seat. The sound bar is under my monitor and unblocked at about 4 feet from my primary listening spot. This puts the distance to the primary sound stage at about 4 feet. The office is about 12x12 and completely closed to let the sound bar work with the acoustics of the room.
To test the speakers I first fired up some of my favorite FLAC recordings. I like to start with a little Pink Floyd to get a good impression of the richness of the sound stage. Time and Money sound great with clear separation and a clarity I would normally expect from a good set of bookshelf speakers. I soon found myself running through everything from Joy Division to Kidney Thieves looking for any weakness in the system. If anything I would recommend turning the bass up a bit more than the concert preset provided.
Of course I had to give that Battlefield 1 preset a good work out. Over a couple of days I played several long sessions with the Katana as my primary source. Long time readers will know I prefer a good set of surround sound headphones for gaming but the clarity of the sound and the directional feedback could win me over!
Lastly I plugged my trusty Sennheiser PC 363D headphones directly into the Katana and gave the onboard sound card some time. I played the same selection of music before settling into an evening of 7 Days to Die. Overall the Katana brought new life to my Senn's immediately eclipsing the Sennheiser sound processor. One thing I discovered is there is no way to toggle between the headphones and the speakers. This means to switch I had to unplug the headset from the Katana every time.
Conclusion
It is hard to point out any single reason you might need a dedicated gaming sound bar but the Creative Sound BlasterX Katana will help you find one. The Katana is a fantastic sound bar providing clear nuanced sound from a small package which can easily handle my most demanding music and gaming needs. It is also an outstanding Bluetooth speaker setup providing my Amazon Dot with some much needed muscle. I can easily see how the Creative Sound BlasterX Katana can be a one size fits all sound solution.
There are a few things I think could be improved including a built in headphone toggle. Given that the output jack is located on the back of the sound bar it can be difficult to access. I also would like to see and sound reactive lighting profile added at some point to help will a full game immersion. However that doesn't take away from the simple fact that the Creative Sound BlasterX Katana is the sound solution you simply don't know you need. I know I won't be letting this one get away!
Good Things
Built in Sound card functionality
Great Amp/DAC solution
Class leading sound quality
Could easily double as a home theater sound bar
Powerful amps
Easy to use software controls
Includes an IR Remote
Bad Things
Requires software for many features
Stand height is not adjustable
No headphone toggle
No sound activated lighting mode, really??
Hardware Asylum Rating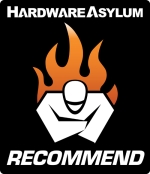 Creative Sound BlasterX Katana Multi-channel Gaming Soundbar Review
Recommend
https://www.hardwareasylum.com