Creative Sound Blaster Katana V2 Multi-Channel Gaming Soundbar Review
Author:

Darren McCain
Published:
Friday, February 4, 2022

Introduction
It has been almost exactly five years since Creative introduced us to the Sound BlasterX Katana Soundbar providing us with a PC centric sound bar for the first time. I found the original Katana to be a brilliant solution to a problem I did not know I had! Since then, we have seen a lot of competition for your soundbar money emerging from companies like Razer and LG.
Today we will be looking at the next generation of Katana, the Creative Sound Blaster Katana V2 Multi-Channel Gaming Soundbar. Will the new Katana V2 defend its crown as the best PC gaming soundbar? Let's find out!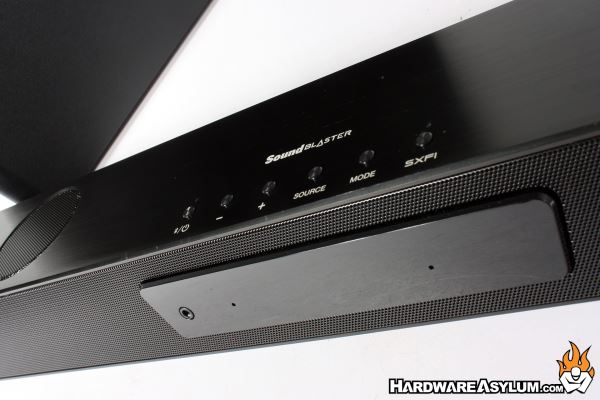 As the Katana V2 is the second generation of the still available original Katana I will be using this review to both compare the two products and to highlight the differences.
The Katana V2 utilizes the familiar two piece soundbar setup with the ~24 inch (600mm) sound bar serving as the brains and the remote wired subwoofer providing the boom. The soundbar's size was specifically engineered to fit nicely under your typical monitor with a height of just less than 2.5 inches (62mm). Both Katana designs are almost exactly the same size. The new subwoofer design is bigger to accommodate more power with a footprint of 5.1 x 11.8 x 13.1 inches making it larger and wider than the original. A complete comparison can be found here.
On to the Specs!
Features
Premium Multi-Channel Audio Upgrade for Gamers
Upgraded Custom Tuned Tweeters and Subwoofer
Improved Aesthetics with Customizable RGB Lighting
Super X-Fi Technology and SX-Fi BATTLE Mode
Host of Upgraded Connectivity Options
Specifications
Dimensions:
Soundbar: 600 x 95 x 62 mm / 23.6 x 3.74 x 2.44 inches
Subwoofer: 150 x 367 x 367 mm / 5.9 x 14.4 x 14.4 inches
Weight:
Soundbar: 1.52 kg / 3.35 lb,
Subwoofer: 6.4 kg / 14.1 lb
Operating Temperature: 0– 40°C
Power Output:
Soundbar: 66W RMS
Total System Power: Up to 126W RMS (Peak: 252W)
Frequency Response: 50–20,000 Hz

Bluetooth Operating Frequency: 2402–2480 MHz

Operating Range for Bluetooth Devices: Up to 10 meters / 33 ft (Measured in open space. Walls and structures may affect range of device.)

Bluetooth Version: Bluetooth 5.0

Bluetooth Profile: A2DP (Wireless Stereo Bluetooth)*
*Stereo Bluetooth or A2DP profile enables wireless transmission of full stereo sound to other Bluetooth To determine whether your device (notebook, PC or mobile device) is equipped with A2DP-enabled Bluetooth technology, refer to your device manufacturer's documentation / website for more information.
Supported Codec: SBC
Connector Type:
AUX-in,
Headset out,
Optical-in,
USB-C,
DC-in,
SXFI-out (USB-A),
Subwoofer-out,
HDMI ARC
System Requirements
For Wireless Streaming: Compatible Bluetoothdevices that support the Stereo Bluetooth Profile (A2DP)
For Wireless Control: Compatible Bluetoothdevices that support the Bluetooth Remote Control (AVRCP)
For 5.1 Surround Audio Playback over USB: Windows® PC
For Dolby Audio 5.1 Audio Playback: Dolby® Audio (Dolby Digital) source connected to Optical-in and HDMI-ARC
For High-resolution 24-bit 96kHz Audio Playback: PC via USB Connection
For Creative application:
macOS 10.15 Catalina and above
Microsoft® Windows® 10 32-bit or 64-bit
iOS 11.0 or later
Android 7.0 and above
Creative is the worldwide leader in digital entertainment products. Founded in Singapore in 1981, Creative started with the vision that multimedia would revolutionize the way people interact with their PCs.
Famous for its Sound Blaster sound cards and for launching the multimedia revolution, Creative is now driving digital entertainment with cutting-edge audio solutions, premium wireless speakers, high performance earphone products and portable media devices. The company's innovative hardware, proprietary technology, applications and services enable consumers to experience high-quality digital entertainment - anytime, anywhere.
Since launching the phenomenally successful Sound Blaster sound cards and setting the de-facto standard for PC audio in 1989, Creative has been able to leverage on its leading-edge audio technology, a huge user base of 400 million, and strong brand name to expand into the exciting lifestyle Personal Digital Entertainment (PDE) market.