HyperX Cloud Revolver Pro Gaming Headset Review
Author:

Darren McCain
Published:
Friday, August 05, 2016

Testing and Sound Quality Observations
The primary reason to buy a new set of headphones is for the sound quality and the Cloud Revolver's 50mm drivers. You can try tricks in processing all day but there is no substitute for size when it comes to sound range. The closed back design helps greatly by isolating sound stage with very little leakage at normal volume. I found I could drive the Cloud Revolver volume at max volume with no noticeable distortion I am sure they could take more if you have a good external DAC headphone amp unit.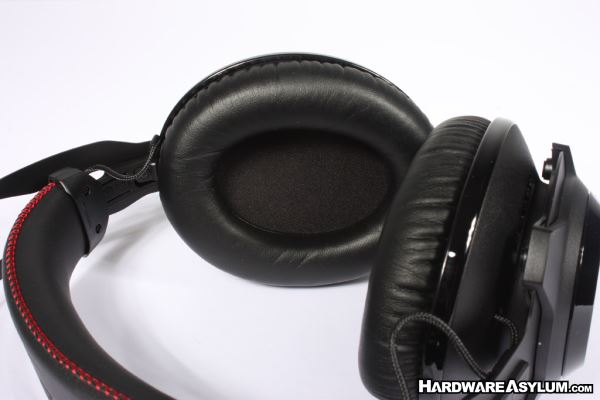 Headsets, like most peripherals, are very subjective. Both looks and fit make reviews more opinion based than products we can accurately benchmark, at least without some very expensive audio equipment. I tested the Cloud Revolver headset with my onboard sound from a MSI X99A Gaming 7 motherboard, a Fiio X1 music player and with my Creative Sound Blaster X7. The Cloud Revolver is truly just a high quality Stereo headset and requires no additional software or driver. Just plug it into your favorite headphone out!
My initial testing was hooked directly to my PC via the MSI X99A Gaming 7. The Gaming 7 uses the very solid Sound Blaster Cinema 2 and a dedicated headphone amplifier. Initially I found the audio quality a bit muted and flat. Curious I had to remind myself that I needed to use the sound driver to tune things and a quick trip to the equalizer brought the Cloud Revolver to life. I tested with some of my favorite tracks and found the range surprising. Classical, EDM and acoustic classics were easily conquered.
Next I moved over to one of my favorite travel toys the Fiio X1. It may be getting a bit long in the tooth but I still enjoy lossless tracks through its Professional quality Texas Instrument PCM5142 DAC and Intersil ISL28291 OP amp. Points for clarity here. The Cloud Revolver easily handles Pink Floyd and some of my other FLAC recordings like a much more expensive setup.
Finally I fired up my Creative Sound Blaster X7 for some sound quality/range testing. Again some quick tuning in the software and I was singing along with some classics. It may be overkill for the Cloud Revolver headset but they sound good. I am listening to them as I write this out and occasionally have to hit the virtual library for another gem to listen too just a bit too loud!
For Surround sound I fired up the SBX Pro Studio demo and of course played some Battlefield 4. I am always a bit disappointed at the loss of directional positioning when switching to a stereo headset but the virtual drivers performed strongly making it easy to hear and pinpoint gunshots and approaching footsteps. I still prefer discreet surround drivers but the deeper bass and clean highs give my surround headsets a good run offering deeper bass rumble when tanking for example.