SilverStone Ensemble Series EB03 and EB01-E Audio Amp DAC Review
Author:

Dennis Garcia
Published:
Tuesday, November 29, 2016

Ensemble Series Audio Layout and Features
The first thing you will notice about the EB01-E and EB03 is the aluminum housing. Both the top and bottom are polished and brushed with a machined edge for added decoration. Exposed screws hold everything together and theater quality feet complete the look.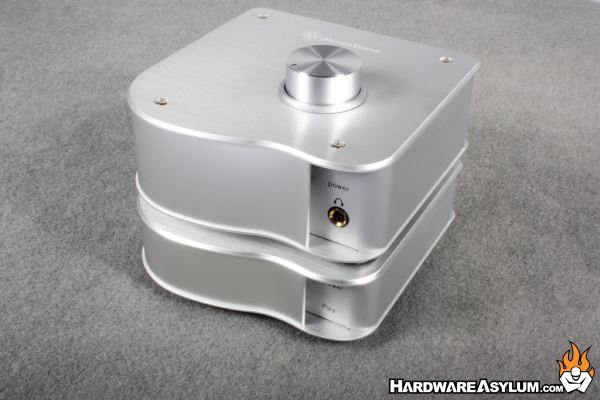 Along the front of both devices you'll find a gap in the shell that gives you a visual indication of something important. On the EB01-E DAC the panel covers two blue LEDs indicating power and play activity. The play LED will activate whenever sound is detected.
The EV01-E DAC or Digital Analog Converter takes digital audio signals and will convert them into a single analog stereo output. Input signals can occur over an Asynchronous USB connection from your PC or over a digital Optical or Coaxial connection. This gives you some versatility in how you connect the device and what it is connected to.
Power is supplied over USB and the small button on the back allows you to switch the input connection to match your desired input. The blue LED above the connection will light up indicating which connection is active.
Analog output is handled by a pair of RCA jacks for Right and Left stereo tracks. These can connect directly to headphones or speakers or directed into the EB03 Headphone Amplifier.
On the EB03 Headphone Amplifier the panel covers a blue LED power indicator and highlights the location of a ¼ inch headphone jack.
At the top you will find a single volume knob which is the only interface.
At the back of the EB03 you will find two sets of RCA jacks. One set is for input from any analog audio connection and the other is a pass-thru allowing you to bypass the headphone amplifier if you want. The EB03 is externally powered requiring a power adaptor and the toggle switch turns the device on or off.
As I had mentioned before the main output is the ¼ inch headphone jack located on the front of the device.
Both of these devices are intended to be used together and share the same form factor. While you can place them side by side it is very beneficial to have them stacked with the cables neatly tied together.
Speaking of cables you will get the following set of cables when you combine both the EB01-E and EB03. This is basically everything you will need to hook up the devices either together or independently.