SilverStone Ensemble Series EB03 and EB01-E Audio Amp DAC Review
Author:

Dennis Garcia
Published:
Tuesday, November 29, 2016

Introduction
Just about every computer system comes with some sort of audio connection. That audio connection is often considered a selling point for the device and depending on your speaker and headphone setup it could be a good match or just something to play sounds. If you find your audio solution lacking or are missing the type of connectivity you need there are a few solutions. If your system supports it you can install a dedicated sound card or you can go external using USB..
In this review I'll be looking at two audio units from SilverStone the Ensemble EB01-E DAC and the Ensemble EB03 Headphone Amplifier. We all know SilverStone for their high quality computer cases however, that is only a part of their entire product line. In fact, they offer a wide variety of accessories to fit every need and niche you can imagine. Some may seem strange but, if you have the desire for a USB 3.0 expansion card or fully aluminum articulating monitor mount they have you covered.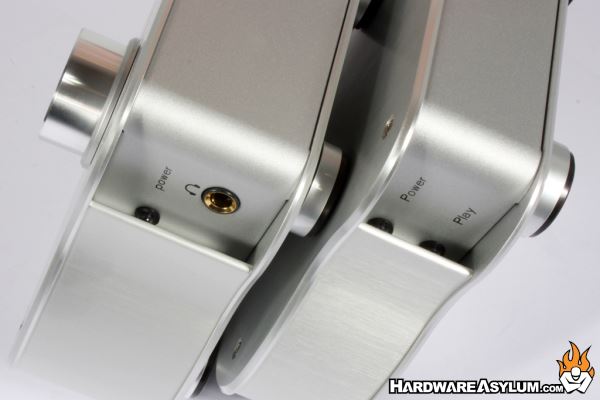 The Ensemble Series is a unique home accessory line designed to provide elegant solutions to common problems. For instance they have a couple of headphone stands that are very well designed and made from high quality aluminum. When done correctly aluminum has great curb appeal and can "enthusiast up" any living room or home office.
Both the EB03 and EB01-E share a unique place in the Ensemble Series by providing a crucial connection between digital audio and high quality studio headphones. These sound devices can be used on a desktop computer or brought outside the office and used with standalone devices like a CD or MP3 player.
EB01-E DAC Specifications
Model No. SST-EB01B-E (black) / SST-EB01S-E (silver)
Material Aluminum & steel chassis
Input Asynchronous USB, optical, coaxial
Output RCA
Sampling resolution 16~24 Bit
Sampling Rate(FS) 32~ 192 kHz
USB Decoder XMOS XS1 TQ128
D/A Converter TI PCM1798
OP Amp TI NE5532
Operating system support Windows XP, 7, 8, MAC OS
EB03 Headphone AMP Specifications
Model No. SST-EB03B (black) / SST-EB03S (silver)
Material Aluminum & steel chassis
Overall dimension 152mm (W) x 82mm (H) x 176mm (D)
Dimension without knob, connectors, and feet 152mm (W) x 55mm (H) x 156mm (D)
Input RCA
Output f6.3mm stereo jack, RCA connector (bypass)
IC THAT 1646W 16-U & 1512S14-U
Headphone resistance 16-600 ohm
The versatility of these devices is that they can be used independent of each other however, SilverStone has designed them so they can work together and is how I intended to conduct this review.