SilverStone Ensemble Series EB03 and EB01-E Audio Amp DAC Review
Author:

Dennis Garcia
Published:
Tuesday, November 29, 2016

Final Testing and Conclusion
Given that the EB01-E and EB03 are designed to work together I decided to test them together and was very impressed with the results. In my personal testing I started out listening to an episode of the Hardware Asylum Podcast and noticed a certain clarity in the sound reproduction, so much in fact that I could hear some hidden details that are amplified during our post processing. These normally go unnoticed when using my desktop headphones and speakers however they became clear when using the EB03 headphone amplifier.
For my personal testing I used a pair of Creative Sound BlasterX H5 headphones. These are a dual large driver stereo headphone set that is not quite considered a high Ohm unit but do require amplification to operate correctly. Using the EB03 I was able to achieve adequate amplification for these headphones using less than half of the headphone dial. Speaking of volumne control the EB03 has a very wide turn allowing you very fine control over volume adjustments. This is a key feature when listening to music when you need to get the amplification "just right"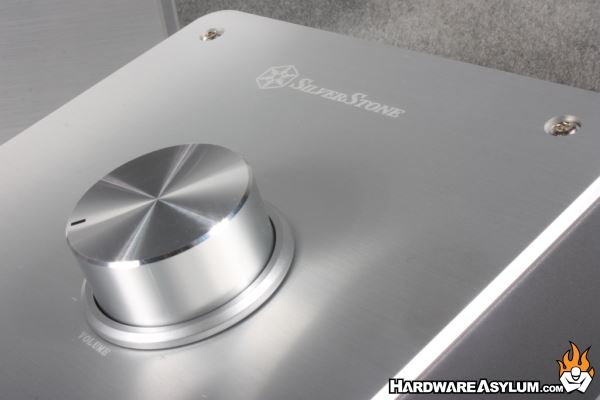 The second part of my testing was focused on gaming. I should clarify that neither the EB01-E nor EB03 are listed as or intended for gaming for the simple fact that they are a stereo set. This means no surround sound, no virtual surround or fancy audio effects. In fact the audio reproduction sounded very flat without any depth to the game audio. Strangely enough that is how our games sound without any audio processing and is something usually handled by surround sound audio drivers. (e.g the drivers used to power motherboard audio)
I will admit that distinctive game sounds positioned close to the player were very sharp and clear which resonated well with my experiences listing to music and voice recordings.
Conlcusion
The SilverStone Ensemble Series EB01-E and EB03 fill a very unique niche in the audiophile world that allows you to connect digital content to studio quality headphones and both are using very high quality components. The EB01-E is based on the XMOS XS1 USB decoder and is passed through a Texas Instruments D/A converter and finally processed by a Texas Instruments OP Amp. Sadly, there are no tubes in the EB01-1 and while I find their use novel and very interesting I'm not convinced they are needed either.
For headphone amplification the EB03 is designed with studio quality sound I mind and is using audio amplifiers from Mouser Electronics. There are two sets of amplifiers in the EB03 starting with a "THAT 1512S14-U" which is a high performance microphone preamplifier. Audio is then passed over to a "THAT 1646W16-U" high output low distortion amplifier which is able to handle 600 Ohm speaker systems.
As my Rightmark Audio tests showed the EB03 headphone amplifier is very clean and I suspect only gets better when used with studio quality speaker and headphone systems. Of course "Studio Quality" is a key term with this review since these devices are not intended for gaming and likewise not intended to replace a Hi-Fi stereo in your home theater. Instead they should be used to span the gap between digital music on your PC or MP3 player and the studio quality audio headphones you use with that Hi-Fi stereo in your home theater.
Good Things
High Quality Components
Stand Alone Audio Solutions
Supports 600 Ohm Studio Headphones
Can be used with or without a PC
Sleek Aluminum Style
EB01-E and EB03 Work Together or Independent
Bad Things
Devices are quite large for what they do
Would be nice to have more direct XMOS driver control