SilverStone Ensemble Series EB03 and EB01-E Audio Amp DAC Review
Author:

Dennis Garcia
Published:
Tuesday, November 29, 2016

Ensemble Software and Testing
The software included with the EB01-E is basically a driver for the XMOS XS1 TQ128 USB Decoder. It is very simple and will display the current sampling rate and device connection.
By default the sampling rate will be set to the system minimum. If you want to change this you'll need to access the Playback Devices and bring up the properties of the XMOS Speakers.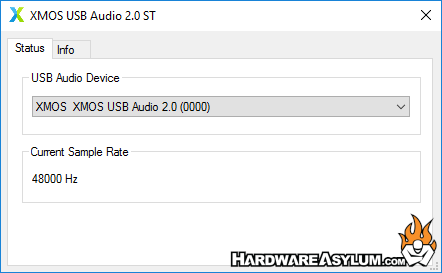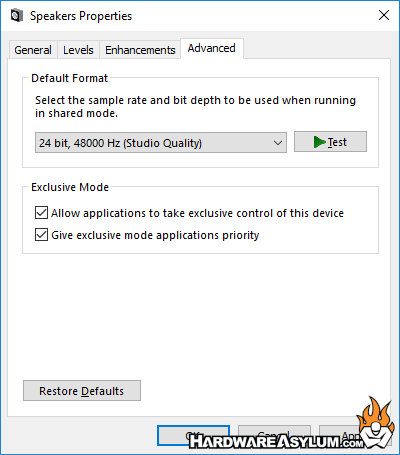 The System as it was Tested
MSI Z170A Gaming M7 – Z170 Chipset
Intel Core i5 6600K (3.5Ghz) Quad Core 4 x 256KB L2 Cache 6MB L3 Cache
Thermaltake Water 2.0 Performer
1x nVidia GTX 980Ti
2x Corsair Vengeance LPX PC4-21300 16GB DDR4 (15-17-17-35)
Micron C300 128GB SSD
HP dvd1260i Multiformat 24x Writer
Thermaltake Toughpower Grand 1050 Watt PSU
Windows 10 Pro 64bit
Audio
SilverStone EB01-E USB External DAC
SilversStone EB03 Headphone Amp
Creative BlasterX H5 Headphones
RightMark Audio Analyzer - EB01-E DAC
No Audio DAC review would be complete without a sound test and for this I used the RightMark Audio Analyzer. This test was performed using a loopback cable which connects the analog output back into the analog line-in. That way we can remove almost all of the variables and concentrate on what is actually being reproduced and recorded.
I had to use the onboard audio microphone connection on the motherboard for this test so there will be some overhead as the audio moves between one audio interface into another.
Specs
Frequency response (from 40 Hz to 15 kHz), dB: +0.02, -0.09 – Excellent
Noise level, dB (A): -79.6 - Average
Dynamic range, dB (A): 80.0 - Good
THD, %: 0.013 - Good
THD + Noise, dB (A): -73.1 - Average
IMD + Noise, %: 0.029 - Good
Stereo crosstalk, dB: -6.8 – Very Poor
IMD at 10 kHz, %: 0.040 - Good
General performance Average
For the RightMark test I disabled all of the audio processing and set the output to Stereo.
The results tell an interesting story. Frequency response is listed as Excellent while the other results are Good to Average to Good with the exception of Stereo Crosstalk. It would seem that one of the channels had a lower output than the other causing this spedification to rate poorly. Overall audio quality is considered "Average" and rates on par with some of the other DAC Amplifier combos I have tested including the Creative BlasterX G5.
Given that the EB01-E and EB03 are designed to work together I decided to test them together and ran audio from the EB01-E into the EB03 headphone amplifier and routed the headphone output back into the motherboard microphone. In a perfect world the amplified signal should match the output from the DAC however every time an analog signal is manipulated there is always certain degree of noise added. A quality amplifier will minimize this and is what we are looking for.
RightMark Audio Analyzer - EV03 Headphone Amp
Specs
Frequency response (from 40 Hz to 15 kHz), dB: +0.07, -0.52 – Good
Noise level, dB (A): -73.3 - Average
Dynamic range, dB (A): 73.4 - Average
THD, %: 0.019 - Good
THD + Noise, dB (A): -67.0 - Average
IMD + Noise, %: 0.055 - Good
Stereo crosstalk, dB: -75.0 – Good
IMD at 10 kHz, %: 0.068 - Good
General performance Good
If you compare specs between the DAC alone to the DAC matched with the headphone amplifier you'll see that overall performance went up slightly from Average to Good but when you look at the individual specifications there is very little change. The real surprise is how the EB03 compensated for Stereo Crosstalk and actually improved the sound separation.
Frequency response did suffer slightly and was the main detractor that brought the overall performance score down.