ASUSTOR AS-304T Multi Media Storage Server Review
Author:

Dennis Garcia
Published:
Thursday, March 06, 2014

Introduction
People working in the corporate America, or any large company for that matter, will have undoubtedly heard terms like Network Attached Storage (NAS), File Server, Web Server and Application Server. These are really the cornerstone for getting work done in the modern world and are present everywhere but rarely seen. Your File Server will store the documents your team needs while the Web and Application servers will use that data to complete various tasks and basically get things done. A typical home user is never exposed to this kind of technology and may not realize that Web Servers actually provide all the data we consume over the Internet.
A common problem in the typical home is the sharing and storage of information. It is true that people find creative ways to share data however they are rarely efficient and often cumbersome. What people don't realize is that with a single device you could share your party photos with the entire family, store frequently accessed documents, broadcast your digital music collection and watch internet videos on your TV all without a single flash drive or sneakernet file transfer.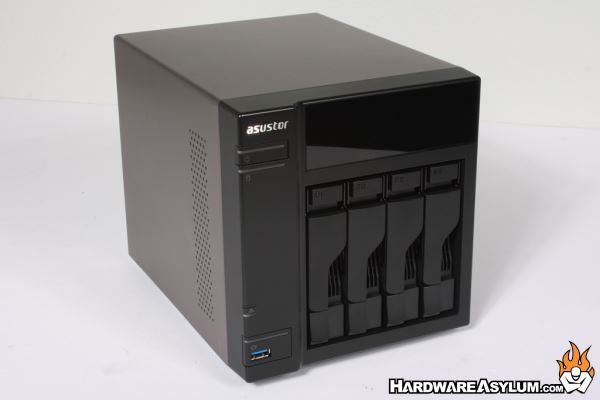 In this review we will be looking at the ASUSTOR AS-304T. This is a multi use server product that blends data protection with entertainment while remaining convenient and easy to use. We are no strangers when it comes to servers and have many floating around the lab tasked with handling everything from data storage to web application development. Sometimes these tasks overlap and is where a NAS device like the AS-304T can come in handy.
Specifications
CPU: Intel® ATOM™ 1.6GHz Dual-Core Processor
Memory: 1GB Memory DDR3
HDD: 2.5" / 3.5" SATA II/ III or SSD x 4
Expansion: USB 3.0 x 2, USB 2.0 x 2
Network: Gigabit Ethernet x 1
Output: HDMI 1.4a x1
System Fan: 120mm x 1
Infrared Receiver
3.5mm Audio Jack
Input Power Voltage: 100V to 240V AC
Certification: FCC, CE, VCCI, BSMI, C-TICK System Sleep Mode (S3)
Auto-Standby for Both Internal and External Disks
Auto Fan Control
LED Night Mode
Power Schedule: On, Off, Restart, and Sleep
Size: 185.5(H) x 170(W) x 230(D) mm
Weight: 3.4 kg / 7.5 lb
Looking at the specs you may notice that they resemble those found in a desktop computer. As you may have guessed a NAS is a specially designed server tasked with the storage and availability of data. To make the process efficent you need a beefy processor and is one reason why the AS-304T can do what it does.