Lexar Professional NM800 NVMe SSD Review
Author:

Dennis Garcia
Published:
Thursday, November 3, 2022

Introduction
One thing that amazes me when it comes to PC Hardware is that they are rarely designed for a single purpose. For instance, the first overclocking motherboards were marketed as development and super computer boards. This was mostly because the sales team didn't know how to sell a product designed solely for overclocking and get creative. Alternatively, early gaming video cards were fragmented between professional workstation graphics cards and hardcore gaming cards. While both types of video processors could do the same task it would ultimately come down to how good the marketing was when it came to market acceptance.
In this review we will be looking the Lexar Professional NM800 PRO NVMe M.2 SSD, with Heatsink. The drive features a variety of unique features and is designed for hardcore gamers, professionals and content creators looking for unparalleled performance. The drive is powered by PCIe Gen4x4 NVMe 1.4 technology and features an integrated Heatsink to keep your system cool for unmatched performance.
M.2 devices require a dedicated 4 Lane PCI Express interface which allows them direct access to the subsystem, processor and memory. When combined with the speed benefits of PCI Express 4.0 the Lexar Professional NM800 Pro features read speeds up to 7500MB/s and writes up to 6500MB/s. Drive capacities range between 512GB up to 2TB, like the drive featured in this review. With this drive there will be little need for secondary storage given the overall capacity and MTBF of 1,500,00 hours and a TBW of 2000TB ensuring a long lifespan under normal conditions.
The drive is similar to other M.2 drives on the market. It measures 3.15" long making it a standard length for M.2 SSDs and not much larger than a stick of gum.
A very unique feature for this particular drive is the included heatsink which is nothing short of massive. The heatsink offers a variety of benefits including the safe installation into popular gaming consoles including the PS5.
Unfortunately, the heatsink does make it a little difficult to use in a PC unless you
Remove the heatsink
Have a M.2 expansion card
Most PC users will want to look for Option C as that will provide you the best user experience and allow you to use the included M.2 heatsink popular on most modern motherboards.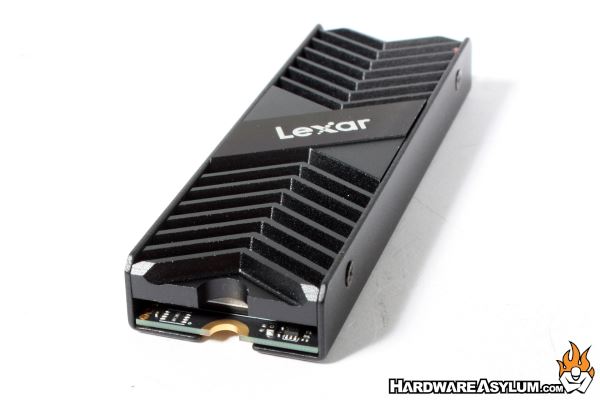 Most everything else about the Lexar Professional NM800 Pro is rather straight forward. The drive features 3D TLC NAND and offers the highest speed at capacities 1TB and above. This is due to now the NAND modules interface the PCI Express 4x4 controller in a low-level form of RAID allowing the controller use the bandwidth of more than one chip at a time.
Even with the extra tall heatsink there is an allowance for the installation screw. Also, from this view you'll see just how massive the included heatsink really is. Thermal capacity like this is important to ensure the longevity of the drive and to maintain the highest transfer speeds possible.
Features
Capacity: 512GB / 1TB / 2TB
Form Factor: M.2 2280
Speed
512GB — sequential read up to 7450MB/s, sequential write up to 3500MB/s
1 TB — sequential read up 7500MB/s, sequential write up to 6300MB/s
2TB — sequential read up 7500MB/s, sequential write up to 6500MB/s
Operating Temperature: 0°C to 70°C (32°F to 158°F)
Storage Temperature: -40°C to 85°C (-40°F to 185°F)
Dimension (LxWxH): 80 x 22 x 10 mm / 3.15" x 0.87" x 0.39"
Weight: 54g / 0.12lbs
Warranty: Five-year limited warranty
Shock Resistant: 1500G, duration 0.5ms, Half Sine Wave2
Vibration Resistant: 10~2000Hz, 1.5mm, 20G, 1 Oct/min, 30min/axis(X,Y,Z)2
TBW: 512GB: 500TB, 1TB: 1000TB, 2TB: 2000TB
DWPD: 0.535
NAND Flash: 3D TLC
MTBF: 1,500,000 Hours
For more information on the Lexar Professional line of NVMe SSD drives be sure to check out their website.