Lexar Professional NM800 NVMe SSD Review
Author:

Dennis Garcia
Published:
Thursday, November 3, 2022

Conclusion
In this review we looked at the Lexar Professional NM800 Pro NVMe SSD. The drive comes in two basic flavors including a bare drive and, the one featured in this review, With Heatsink. Under the covers the drives are identical and yet offer a different range of flexibility. Drives without an included heatsink will work well in PC systems considering that most modern motherboards come with an integrated M.2 cooling solution. Alternatively, the version featured io this review offers the option to be installed in gaming consoles, such as the PS5, where internal cooling is less than ideal. The large heatsink will ensure that the drive stays cool while offering an extended service life and better performance.
Plus, if you need to install the drive into a PC simply break out your precision screwdriver set and remove the heatsink. This will expose the drive and the double-sided thermal pads giving you room to clear the onboard heatspreaders. (Warranty issues could apply so, do with caution)
The Lexar Professional NM800 Pro NVMe drive supports PCI Express 4.0 and is available in capacities ranging from 512GB up to 2TB. As expected, the 2TB drive featured in this review does offer a faster overall performance when compared to the 512GB and 1TB versions which is due to how the NAND interfaces with the PCI Express 4x4 controller.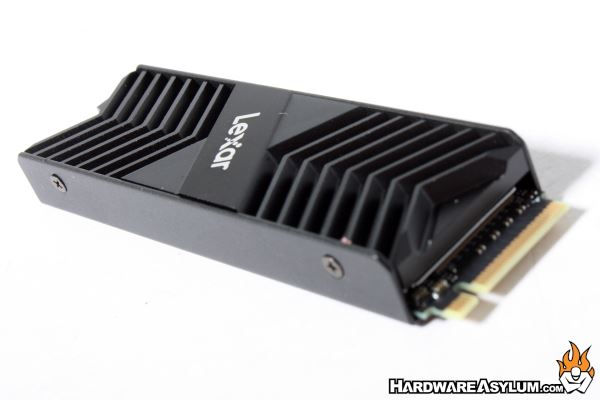 I'm not going to tell you that you need the 2TB drive but, you need the 2TB drive if you care about storage performance and capacity.
Overall performance was extremely good and offered exceptional performance across the entire benchmarking suite. While we didn't see the documented 7500MB/s read speeds the write performance was better than expected with exceptional Random Read/Write performance which helped with many real-world benchmarks.
Good Things
Great Performance
Small Form Factor
Super Fast NVMe
Available in Sizes up to 2TB
PCI Express 4.0 Support
Extremely Large Heatsink Included
2000TB Terabytes Written Lifespan
Bad Things
The large heatsink can cause problems when installing in a PC.
Hardware Asylum Rating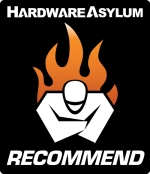 Lexar Professional NM800 NVMe SSD Review
Recommend
https://www.hardwareasylum.com