Kasda Networks Transformer KA1900 WiFi Gigabit Router Review
Author:

Dennis Garcia
Published:
Monday, December 12, 2016
Introduction
One of the most confusing things about setting up a wireless network is deciding what router to buy. Not only does cost play a major factor but speed and supported features are often too difficult to understand. This leaves you at the whim of the Big Box Store employee who missed their lunch helping you or simply guessing what you need while shopping online.
As with my system builds I'm usually "feature focused" meaning that specifications are more important than cost and might be why I have a Netgear Nighhawk R7000 running my wireless here in the Hardware Asylum Labs. It might not be the "best" router you can buy but, it supported the features I wanted like AC1900 and even came with some convenience features like USB 3.0 and a 4 port Gigabit switch.
In this review I'll be looking at a very competitive WiFi Router from Kasda Networks called the Transformer KA1900. This is an AC1900 Dual band WiFi router supporting 802.11b/g/n/ac with a 1300Mbps 5Ghz spectrum and 600Mbps 2.4 Ghz. It is designed for a Large House and is using the Broadcom BCM4709 + 2x BCM4360 processors with 128 MB flash and 256 MB RAM.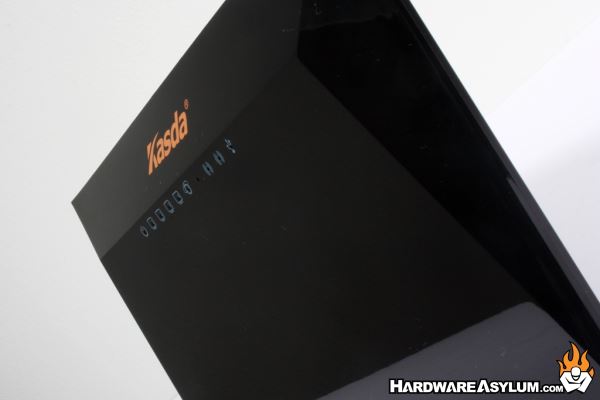 From a pure specification standpoint it is starting to look a lot like my R7000.
Specifications
Product Number KA1900
Wi-Fi Technology Compliant with 802.11b/g/n/ac AP integrated
Wi-Fi performance 1300Mbps for 5GHz and 600Mbps for 2.4GHz
Wi-Fi Range Large house
Wi-Fi Band 2.4GHz/5GHz
Key Features
- 1 USB 2.0 and 1 USB 3.0
- Multi-Antennas support for 5GHz and 2.4 GHz dual band
- Firewall: MAC Filtering, URL Filtering
- Internal Antenna design
- 4 Gigabit Ethernet LAN Ports & 1 Gigabit Ethernet WAN Ports
- IPv4/IPv6 Dual Stack
- NAT, static routing and RIP v1 /v2
- Management and Configuration via Telnet and web GUI
- Customized free URL to set up personal FTP server
- On/off LED lights option
Security
- VPN support-secure remote access
- Guest network access-separate & secure
- Wi-Fi Protected Access® (WEP, WPA, WPA2, WPA/WPA2-PSK)
- Double firewall protection (SPI and NAT)
- Denial-of-service (DoS) attack prevention
Processor BCM4709+2xBCM4360
Memory 128 MB flash and 256 MB RAM
Physical Specifications Dimensions: 10.24*6.30*2.36 in(260*160*60 mm)
Weight: 1.32 lbs(600 g)
Warranty 1 year warranty