Kasda Networks Transformer KA1900 WiFi Gigabit Router Review
Author:

Dennis Garcia
Published:
Monday, December 12, 2016
Conclusion
Early in this review I compared the Kasda Networks Transformer KA1900 to the Netgear Nighthawk AC1900 and for good reason. From a specification standpoint they are virtually identical in all but three areas.
Form Factor
Cost
Configurability
In terms of form factor the Transformer is designed to sit on a desk or shelf. The design is very sleek and comes with a glossy finish. There are no external antenna so aside from a few blinking lights it can easily blend in with plants and pictures. All of the connections are at the back of the router which keeps cable clutter to a minimum and is also the main reason it cannot be mounted to the wall.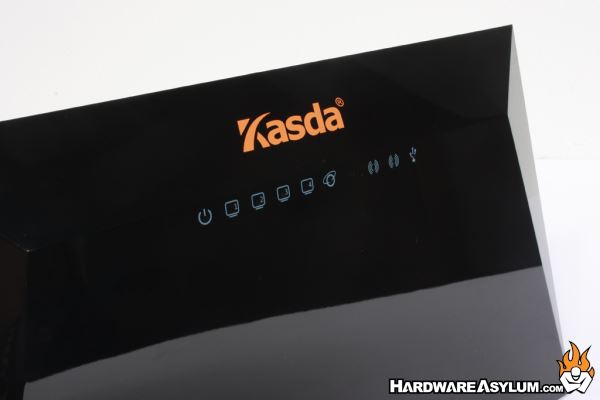 Cost is a driving factor with consumer electronics and while my "feature focused" approach looks beyond cost I am still aware of it. The Nighthawk R7000 can be found online for around $190USD while the Kasda Networks Networks KA1900 Dual-Band Wireless-AC 1900 Gigabit Router is being sold for around $80USD. Considering that the hardware is identical I think that is a pretty easy decision to make.
Configurability is something many router owners are oblivious to. A quick search at the wireless access points around my Hardware Asylum Labs proves that people rarely change the name of the access point and few bother to enable security. This is a huge problem with WiFi in general and is why companies go to great lengths to make their routers easy to use. Thing is, they are also the type of device that you setup once and forget.
The Kasda Networks Transformer KA1900 is using a modified DD-WRT firmware that is the ultra in configurability and might be a little daunting to some. I consider myself to be an expert on a number of things and WiFi is not one of them. In fact I typically fall into the category of setup and forget.
In the span of 10 minutes I had the router out of the box and working on my network complete with security and Internet access. Of course, your mileage may vary however, all things considered a little extra work to save a big chunk of change makes sense to me.
Available Images