CyberPowerPC Gamer Xtreme 4200 System Review
Author:

Dennis Garcia
Published:
Friday, June 28, 2013

Conclusion
Choosing a new computer can be a daunting task and without a little help it may be hard to determine what you really need in a system. Pre-configured systems like what is available at CyberPower PC can help take out some of the guess work and give you a solid starting point for getting exactly what you need. In this review we looked at the Cyberpower PC Gamer Xtreme 4200. This is a Haswell based gaming computer using the latest Core i7 4770K processor and nVidia GTX 770 graphics card.

The system was assembled extremely well with a good combination of mainstream components coupled with some top of the line ones. For instance our system came with the MSI Gaming GTX 770 which is slightly overclocked and features an oversized cooler for better performance. Combine that with our 4.2Ghz factory overclock (One of the options you can select when ordering your CyberPower PC system) and you have a very capable gaming system. Despite the overclocked nature of the system the included watercooler kept everything running smooth and with virtually no noise, even under heavy gaming.

As we mentioned pre-configured systems from CyberPower PC are a great starting point and when you place your order you have the option to change what components are included. Considering the entire system there are a few things we would change, which are really just personal preferences.

The first would be the watercooling unit. There are currently 14 different cooling options available for the Gamer Xtreme 4200 which range from the stock Intel cooler to a custom CyberPower PC loop with a triple fan radiator and larger hoses. Our test unit came with the CoolIT AIO and we might suggest something using Asetek internals or the CM Seidon due to the better mounting hardware. Don't rule out any of the extreme solutions as they will likely give you better cooling performance and look pretty good.

Our second upgrade would be the chassis. The Enermax Hoplite is a nice case with some cool features like a top mounted hot-swap dock but the construction material is very thin and difficult to work with. Cyberpower PC offers a variety of chassis solutions and we would suggest checking a few case reviews before making your decision.

The Cyberpower PC Gamer Xtreme 4200 comes with a full version of Windows 8 x64 pre-installed with all of the latest drivers configured and ready to go. We didn't find any bloatware on the system and after a short setup period we were ready to go.

Good Things
Haswell K Edition Processor
Watercooling Included
Factory Overclock to 4.2Ghz
850w Power Supply
nVidia GTX 770 Included
SATA6 SSD
Bad Things
None to speak of
Ninjalane Rating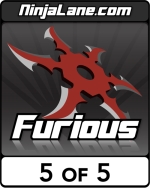 CyberPowerPC Gamer Xtreme 4200 System Review
Furious 5 of 5
https://www.hardwareasylum.com