E3iO Snack Series SK02 Desktop PC Review
Author:

Dennis Garcia
Published:
Friday, December 21, 2012

System Layout and Features
As was mentioned before the SNACK Series is built on a slightly modified Bitfenix Prodigy chassis that includes a machined plastic faceplate with the E3iO logo in the middle. Part of the modification process is to replace the blocky external drive bay with a single opening for a slim slot load style DVD+RW.
You will find the front panel connections along the right side of the chassis which include all of the major connections including power and hdd activity LEDs.

The top and bottom handles found on the SNACK chassis are a FyberFlex composite that is designed to be flexible and extremely strong. These handles may not seem like much but they support the SK02 quite well and provide some shock absorption during transit.
Under the handles you will find a removable fan filter with placements for two 120mm fans. Both of these will be empty due in part to the optical drive cooling system inside the case.

Turning the case around exposes the I/O panel and video card connections. This version of the SK02 comes with a GTX 650 Ti graphics card. You will find those video connections towards the right side of the case.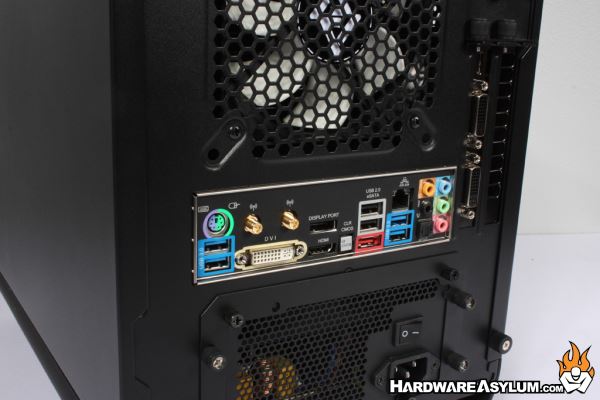 The AsRock Z77 Z77E-ITX motherboard used in the SK02 is quite nice and comes with a good cross section of features including USB 3.0, Display Port, HDMI, eSATA, Gigabit Ethernet, WiFi with external antenna and 8.1 surround sound audio over either optical or analog.