E3iO Snack Series SK02 Desktop PC Review
Author:

Dennis Garcia
Published:
Friday, December 21, 2012

Conclusion
When buying a custom computer for there are many ways you can go. The mainstream route will get you an OEM style system, but as they say, you get what you pay for and in the end you may not be happy. Another route would be to approach a boutique builder, such as E3iO, and spec out exactly what you want. In this review we looked at the SK02 SNACK Series Desktop PC built using a small form factor Mini-ITX motherboard and Ivy Bridge processor.

The system is extremely well built and comes with a good combination of mainstream components including the Core i5 3570K processor and GeForce GTX 650 Ti. While these may not be top of the line they work quite well together and provide a good mix between performance and price. Cooling was handled by a Thermaltake Water 2.0 Performer which not only kept the CPU running cool but, also helped vent the chassis.

Our test system came with a full installation of Windows 8 Pro which worked perfectly. We powered on the system and were almost immediately prompted to enter our product key, after a couple of reboots the system was set and ready to good. Drivers were pre-installed and it even detected the local wireless access points asked for the key to connect. The process from power to desktop was very polished and really made it seem like we owned the machine instead of getting something configured and built by someone else.

Every SNACK Series machine comes with a lifetime of customer support so if you have any issues with the system you can call them to sort out the problems. The hardware carries a full warranty which is outlined in the included owner's notebook.
Each system is fully tested before leaving the factory and the individual performance results are recorded in the notebook along with the full system specs. We, of course, ran our own benchmarks for this review but it is nice to see a system builder stand behind their product with proven results.
You even get a certificate of ownership signed by the E3iO directors.
We really enjoyed using the SK02 and the configuration provided by E3iO was a perfect match of mainstream components to create a very capable machine. Nothing in this build would prevent you from playing your favorite PC game or even running a few benchmarks with friends. Wireless connectivity ensures that you can use this system anywhere and is complemented by the small size.
The SK02 SNACK Series computers start at $799,
visit the E3iO website
to order and for full custom options.
Good Things
Ivy Bridge Processor
Watercooling option
Clean Chassis Design
Carrying Handles
Variety of Colors Available
Fully Configurable
Bad Things
No Blu-Ray option
Ninjalane Rating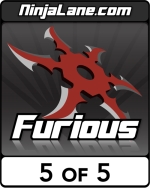 E3iO Snack Series SK02 Desktop PC Review
Furious 5 of 5
https://www.hardwareasylum.com