Gigabyte GTX 970 G1 Gaming Video Card Review
Author:

Dennis Garcia
Published:
Friday, January 30, 2015

Introduction
Gaming is an extremely popular buzzword that is often used to describe a very large segment in the enthusiast computer world and most everyone is trying to get a piece of the gaming market. So, why the push for specialized gaming gear? As many of you know gaming computers are built a little differently and focus on delivering the best performance for the best gaming experience. That might be things like the best sound quality or an attempt to deliver more granular control within a specific game by pushing the limits of that the hardware can deliver.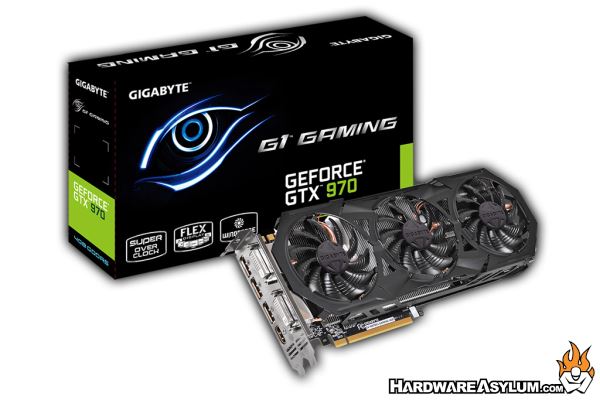 In this review we will be looking at the Gigabyte GTX 970 G1 Gaming video card. This is a little more than a standard hot-clocked GTX 970 and comes with a little special sauce to extract a few extra Mhz from the GPU.
Specifications
Core Clock: Base 1178Mhz / Boost 1329MHz
Process Technology: 28 nm
Memory Clock: 7Gbps
Memory Size: 4 GB
Memory Bus: 256 bit
Memory Type: GDDR5
Card Bus: PCI-E 3.0
DirectX: 12
OpenGL: 4.4
PCB Form: ATX
Digital max resolution: 4096 X 2160
Analog max resolution: 2048 x 1536
Multi-view: 4
I/O: Dual-link DVI-I / DVI-D / DisplayPort*3 / HDMI*1
Card size: L=312mm, W=129mm, H=43mm
Power requirement: 550W(with one 6-pin and one 8-pin external power connectors)
The GTX 970, or 70 series cards, have often been considered the "Affordable" high-end card as they often deliver comparable performance to the top of the line at a fraction of the cost. Factor in factory overclocks and custom PCBs and you can reduce the performance hit even more. By now many of you have read about the controversy surrounding the GTX 970 when it comes to performance under high memory usage. While we love us a conspiracy the focus of this review is not about NVidia architecture but rather what Gigabyte has done to this card to make their version of the GTX 970 special.