Gigabyte GTX 970 G1 Gaming Video Card Review
Author:

Dennis Garcia
Published:
Friday, January 30, 2015

Card Layout and Features
As with most custom Gigabyte video cards the GTX 970 comes with the famous Windforce cooling solution. The G1 Gaming is using the oversized three fan version with redesigned fan blades to help direct airflow over the heatsink. The PCB for this card measures in at 10 inches long while the card plus cooler extend to over 11.75 inches to account for the oversized Windforce cooler.
Flipping the card over we can see that Gigabyte has included a very ornate aluminum backplate to help protect and reinforce the PCB, remove excess heat and generally look cool.
Video output is comprised of two dual link DVI video outputs combined with a three Display Port connection and a single standard HDMI. Four of these connections can be used at the same time allowing you to run 3-way surround and still have a spare monitor for use outside of the game or using the new Gigabyte Flex display technology.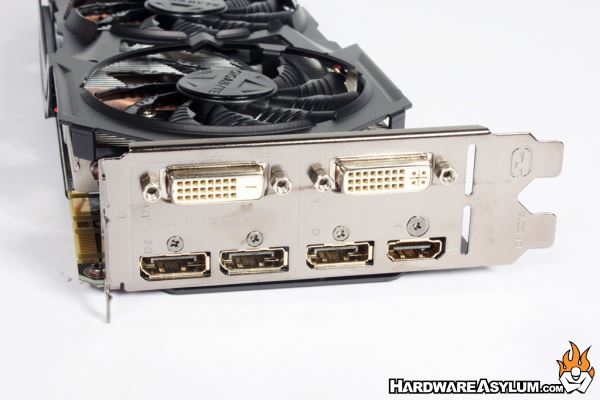 Flex Display technology
GIGABYTE Flex display technology(patent-pending) can automatically detect any connected monitors and achieve multi-display gaming up to 4 monitors at the same time by using various output groups. Users could enjoy the best gaming experience in ultra HD resolution with extended flexibility in arranging monitor configurations and making future system upgrade extremely easy.
2-way and 3-way SLI is possible using the GTX 970 given the dual SLI bridge connection at the top of the card. This is a typical offering for 70-series graphics cards as they are intended for mainstream use with the intent of higher than average performance. Sadly NVidia restricts these cards to only 3-way SLI at the driver level so you'll need to keep that in mind if you are in the market for a GTX 970.
Power to the card is delivered across a single 8-pin and 6-pin PCI E power connection. Normally we wouldn't bring these up however, as the photo shows, the plugs are on "backwards". Typically we have seen these plugs with the tabs pointing out towards the heatsink however on the G1 Gaming board they are reversed so to clear the Windforce cooler.