NVIDIA GTX 780 Ti Video Card Review
Author:

Dennis Garcia
Published:
Thursday, November 07, 2013

Introduction
There comes a time in every GPU launch, and maybe that time for you is now, when it doesn't hurt to start thinking about the future. Currently that future is full of things such as 4K resolution displays, dynamically changing clock frequencies and the thought that AMD could have a faster GPU. To handle these you're going to need one (or more) massive video cards. During a press event in Montreal there was a new GPU was announced to address these things and it is called the GTX 780 Ti.
The GTX 780 Ti, according to NVIDIA, is the fastest GPU in the world and is yet designed to do much more than win benchmarks. For instance the gaming enthusiast wants more from their games including higher resolution, better performance and quiet operation. These are key for creating an immersive experience and are why gamers will go to great lengths to get the best hardware possible. In this review we will be looking at a reference version of the GTX 780 Ti using the stock metalized cooler.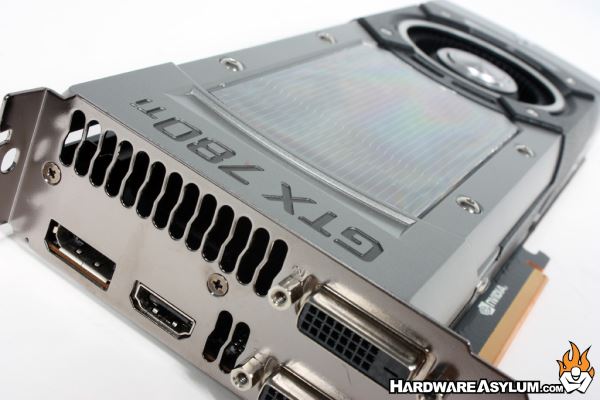 For those of you following the GTX Titan launch earlier this year you will know that the GPU used on that card was an extension of the GK110 architecture designed for super computers. Given that the GPU is similar to those used on retail cards it was easy for them to repurpose the chip and thus make the first retail/professional cards not tied to a numbered series. With that card came a variety of new technologies including the famous GPU Boost 2.0 which will dynamically change GPU frequency based on pre-defined temperature targets. In laymens terms the cooler you can keep the GPU the faster and more powerful it becomes.
A trimmed down version of the GTX Titan core became the flagship GTX 780 which can be found at the heart of the extremely popular GTX 780 Classified and GTX 780 Lightning. Both of these cards feature custom PCB solutions designed for overclocking..

The GTX 780Ti is similar to the GTX Titan with more CUDA cores, higher GPU clocks and extremely fast 7GHz GDDR5 making it the fastest video card available in the NVidia lineup.
Specifications
Processing Units
Graphics Processing Clusters 5
Streaming Multiprocessors 15
CUDA Cores 2880
Texture Units 240
ROP Units 48

Clock Speeds
Base Clock 875 MHz
Boost Clock 928 MHz
Memory Clock (Data rate) 7000 MHz
L2 Cache Size 1536K

Memory
Total Video Memory 3072MB GDDR5
Memory Interface 384-bit
Total Memory Bandwidth 336 GB/s
Texture Filtering Rate (Bilinear) 210 GigaTexels/sec

Physical
Fabrication Process 28 nm
Transistor Count 7.1 Billion
Connectors 2 x Dual-Link DVI / 1 x HDMI / 1 x DisplayPort
Form Factor Dual Slot
Power Connectors One 8-pin and one 6-pin
Recommended Power Supply 600 Watts
Thermal Design Power (TDP) 250 Watts
Thermal Threshold 95° C