Nvidia RTX 3070 Ti Video Card Review
Author:

Dennis Garcia
Published:
Wednesday, June 9, 2021

Introduction
Couple weeks ago (as of this review) NVIDIA announced the RTX 3080 Ti and RTX 3070 Ti. These are both second release 30-Series GPUs supporting the same RTX features but with a very different set of GPU specifications and in this review, we will be going over some of the differences while I give you my impressions and run a few performance benchmarks and do a little overclocking.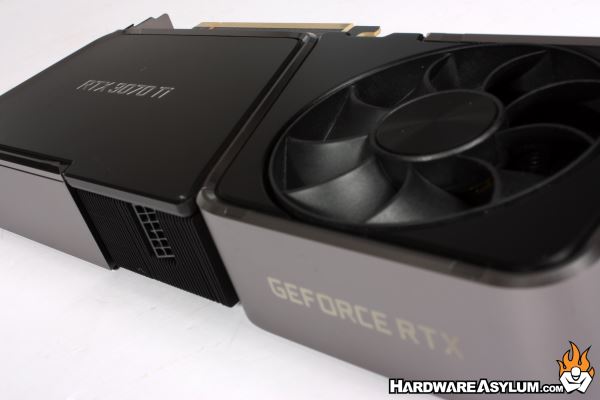 For the hardware enthusiast I find the 70 Class of NVIDIA GPUs to be the sweet spot between performance and price. While the RTX 3060 cards are designed for the mainstream they often lack the power to really show off what the generation can do and the 80 Class cards are often too expensive for the majority to afford.
Given how similar the two Founders Editions cards are I'm including your basic unboxing video below which should cover the first couple pages of my typical review.
In my testing the overall cooling ability of the Founders Edition heatsink is extremely good and the RTX 3070 Ti doesn't generate nearly as much heat leaving the surface "hot" but "not too hot" at the same time.
What is great about the Founders Edition heatsink is how much it doesn't look like a heatsink. There are fans but, every vent is hidden in shadow which not only prevents you from seeing the actual PCB but gives the cooler a stealthy look that cannot be beat.
Specifications
GPU GeForce RTX 3070 Ti (Founders Edition)
SMs 48
CUDA Cores 6144
Tensor Cores 192 (3rd Gen)
RT Cores 48 (2nd Gen)
Texture Units 192
ROPs 96
GPU Boost Clock 1770 MHz
Memory Clock 9500 MHz
Total Video Memory 8 GB GDDR6X
Memory Interface 256-bit
Memory Bandwidth 608 GB/s
TGP 290 Watts
As with most NVIDIA graphics cards the GPU Boost Clock might be listed at 1770Mhz but, that number varies depending on your environment. If your case is well ventilated the boost clock will be higher. Likewise, the board partners will also offer up "hot clocked" RTX 3070 Ti cards with Boost Clocks that are much higher than you will see here.
About the NVIDIA RTX
The NVIDIA RTX is much more than a single GPU as it is comprised of three different chips designed to process different aspects of your games to not only accelerate performance but to also make them look better.
CUDA Cores are what has driven NVIDIA graphics for over 15 years.
RT Cores handle real-time ray tracing which can bring realistic lighting, shadows and effects to games by enhancing image quality and immersion beyond the typical "lowest common denominator" model that game developers typically follow.
Tensor Cores are the AI Brains of the GeForce RTX GPU and can accelerate the linear algebra used for deep neural networking processing and power the AI features such as NVIDIA DLSS and NVIDIA Broadcast. DLSS also can give a major boost to framerates and provide more detail in every scene.
NVIDIA offers a number of technologies to help boost game performance and most of them have been on the market for quite some time. NVIDIA Reflex works with G-SYNC to optimize performance in competitive games, NVIDIA Broadcast uses AI to offer a GPU Hardware encoder to make streaming games faster and more efficient while also monitoring background noises to remove unwanted noise including dog barks and those annoying sirens, NVIDIA Studio is an RTX Accelerated Content Creation platform which work with popular software packages for faster rendering and better performance.
All of this performance and the ability to crunch numbers is why NVIDIA RTX is one of the fastest GPUs you can buy. Ironically, this is also why the cards have been gobbled up by Crypto Miners along with being the cornerstone for the NVIDIA Grace platform which will offer unprecedented AI processing power in the datacenter. I'm not sure if Grace will be hosting any websites but, could easily accelerate YT video processing and handle the millions of processes orchestrated in the modern cloud.