Zotac GTX 1070 Ti AMP! Extreme Video Card Review
Author:

Dennis Garcia
Published:
Thursday, April 19, 2018

Conclusion
As a PC hardware enthusiast I get super excited when new technologies launch and let's face it Pascal was pretty damn cool. At launch NVIDIA announced two heavy hitters with an amazing price point and performance that was off the charts. This created a sort of hardware land rush that ended up with a worldwide chip shortage and lasted for quite a long time. NVIDIA always had plans for a full lineup and just recently added the GTX 1070 Ti to fill the gap between the GTX 1070 and GTX 1080.
In this review we looked at the Zotac GTX 1070 Ti AMP! Extreme graphics card. This is the highest end card Zotac offers with a 1070 Ti GPU and is built to perform. Out of the box the card comes factory overclocked (hot clocked) and armed with a Firestorm profile backup was able to overclock the card to 2050Mhz at the click of a button. The card will do competitive benchmarks at 2100Mhz. This high speed stability is split between the GPU and PCB design.
The card features and overabundance of cool features including an oversized triple fan cooler that takes up two and a half PCI Express slots. In terms of height the card is taller than most to accommodate the oversized VRM and dedicated VRM cooler. A Power Boost capacitor can be found on the back side of the AMP! Extreme and is designed to store and deliver higher current loads so to reduce power ripples that can impact stability, especially when overclocked.
Speaking of performance I was rather amazed at how well the card performed. Out of the box I was greeted with a very silent running video card that never really spun up beyond a whisper despite repeated 3DMark benchmark runs. This is due to the oversized cooler that effectively splits the GPU load across the entire cooler so to prevent the fans from spinning up too soon. The card does get warm and when an overclocking profile is engaged the silent fan mode is disabled for better cooling performance.
Overall I'm really impressed with the Zotac GTX 1070 Ti AMP! Extreme. It is built well, has a massive cooler and overclocks effortlessly. Those three things really define an enthusiast video card and I really hope Zotac continues these design styles with future product offerings. My only gripe would be that I feel the two and a half slot cooler is a bit excessive. I know I know a guy who overclocks with LN2 calling a cooler excessive seems a bit hypocritical but the non standard size does require some forethought when planning your build to prevent PCI Express slot damage and space concerns when going with a vertical GPU mounting. Not a deal breaker by far, just something to consider, assuming you can find one on the open market.
Good Things
Sweet Spot Performance Enhanced.
Triple Fan Cooler
Solid Cooling Solution
GPU Boost 3.0
Quiet Operation
Super Strong Backplate
Power Boost Supercap
Onboard RGB LEDs
Bad Things
Big card! (ya if that is a bad thing)
Hardware Asylum Rating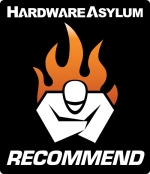 Zotac GTX 1070 Ti AMP! Extreme Video Card Review
Recommend
https://www.hardwareasylum.com