Zotac GTX 1070 Ti AMP! Extreme Video Card Review
Author:

Dennis Garcia
Published:
Thursday, April 19, 2018

AMP Extreme Uncovered
There are just five screws holding the IceStorm cooling solution to the video card. Four of them are spring screws near the GPU with a single located near the top. Remove all of these and the cooler will fall off the card.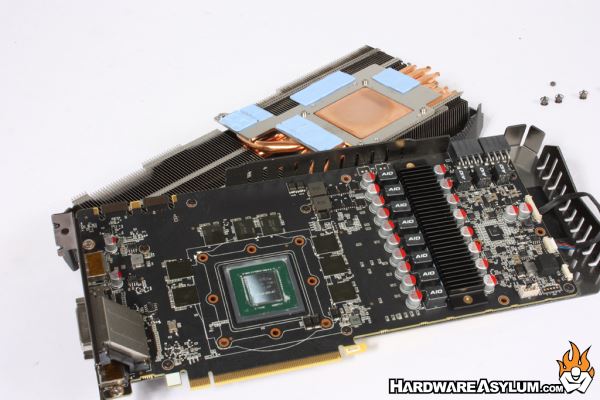 IceStorm is a heatpipe based cooling solution comprised of size heatpipes radiating from a single GPU cold plate. One of the reasons some GPU coolers are more efficient than others is how it isolates heat zones. With IceStorm there is a copper cold plate right over the GPU with a nickel plated heatspreader that makes contact with the memory chips. These two are physically connected despite not being part of the same piece of metal.
The Zotac IceStorm is very similar to the EVGA ACX cooler in that it is designed to cool in stages. This becomes apparent when you trace the route of the heatpipes as they enter the radiator. The two center pipe is closest to the GPU and will take away most of the heat. The upper makes contact with the radiator above the GPU while the lower dumps into the larger radiator above the VRM.
As the heat load increases and begins to saturate the center pipes the other four will start to work and dump directly into the larger radiator above the VRM. Simply put these are the three stages. The first will spread lighter loads out to larger sections of the cooler which enabled the card to operate without any fans. As the heat loads increase more pipes will pick up the slack which may require the triple fans to kick in.
I am really impressed that the VRM comes with a dedicated heatsink which allows the card to control GPU temperature first and handle some of the specialized heat loads later.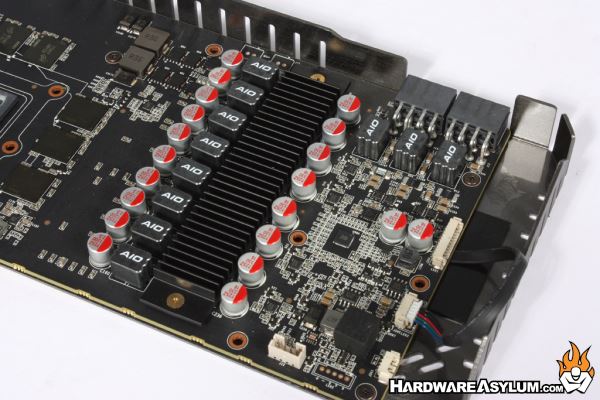 The Zotac GTX 1070 Ti AMP! Extreme comes with an eight phase VRM for handling the GPU, memory and PCI Express. Power delivery is extremely important for card stability and is why this card comes with dual 8-pin power connectors and oversized VRM. To help equalize power delivery Zotac has included their POWER BOOST technology which uses special capacitors to reduce ripple noise and power fluctuations. You can see them on both sides of the VRM and a large one located on the back side of the PCB.
The whole design reminds me of what many companies where doing "in the old days" where instead of using Japanese style capacitors they replaced most of them with large ML capacitors designed to handle higher loads. Best thing about it was video cards using them always overclocked better but added excessive costs and were eventually removed.