The 4 Best X79 Motherboards - You will never see
Author:

Dennis Garcia
Published:
Wednesday, September 12, 2012

Introduction
People often describe Enthusiast Computer Hardware using their equivalents in the car market. For instance overclocking can best be described as drag racing with your computer. The more power you add the faster the benchmark will run and the better your score will be. Casemodding is often a combination of the import tuning culture with the weekend show n shine where you are judged on your upgrades and ability to bring everything together into a complete and stylish package. Regardless of your choice in hobbies the results reflect well on the user and their passion for competition.

Of course hobbies are fueled by innovation and are successful based on the size of the projected market. So how does that translate to computer hardware? In most cases I see Enthusiast Hardware used as a marketing tool to draw attention to the profitable products but without a great flagship there is little hope to sway popular opinion.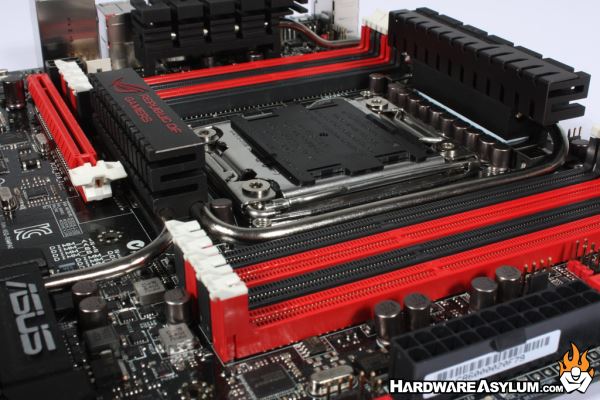 In this article I'll be showing you the 4 Best X79 Motherboards you could have purchased but, for some reason or another, are no longer available. Many have been disproportionality priced to limit sales while others may have been designed to fall well out of the normal hardware channels and have become less desirable. Either way these boards are designed for the individuals who can, or wants, to afford them.
The Four motherboards in this article include:
Foxconn Quantum Force Quantumian-1
MSI Big Bang XPower II
Gigabyte X79-UD7 OC
Asus Rampage IV Extreme
All of these motherboards have been used in the Ninjalane Labs as either review samples or as part of an online overclocking competition. In terms of overclocking performance X79 was quickly eclipsed by the LGA 1155 Sandy and Ivy Bridge processors due to better overclocking performance and lower overall cost. LGA 2011 might have 6-cores and hyperthreading but the same BCLK limitations existed giving you a maximum BCLK of 105-107Mhz
(not including the BCLK mulitpliers)
. K and X Sku processors offered multiplier adjustments but even with that the average overclock was limited to 5.3Ghz.
Every so often you hear of overclockers finding a 5.7Ghz processors but at $600US for the Core i7 3930K that is a lot of money to spend.
Lackluster overclocking may have killed is as an enthusiast platform but that is no reason to ignore X79. The power of LGA 2011 Sandy Bridge-E is not with raw overclocking but the power of 6-cores and 40-lanes of PCI Express, direct from the CPU. Combine these with a well made motherboard and you have the makings of a powerful gaming machine or mini super computer sporting 4-Way SLI or Crossfire.