Cooler Master MasterBox NR200 Mini ITX Case Review
Author:

Dennis Garcia
Published:
Tuesday, January 26, 2021

Introduction
The process of building a computer has come a long way from its humble beginning and we can thank the computer enthusiast for helping to actually make the hardware better. Of course, there were some rocky times when companies made products with two goals in mind. Does it have a popular feature? And, is it cheap to make, oh and by extension, is it inexpensive to buy?
In this review we will be looking at a new case from Cooler Master the MasterBox NR200 Mini ITX. This is a case that touches on a third and, often overlooked feature in case design. Is it actually good?
Plenty of cases out there feature tempered glass side panels and even more come with a plethora of RGB and while trends help sell cases there are still a good majority of builders who really don't care about any of that. They would rather have a good build experience, plenty of room to work with and the option to build how they want instead of conforming to what the designer intended.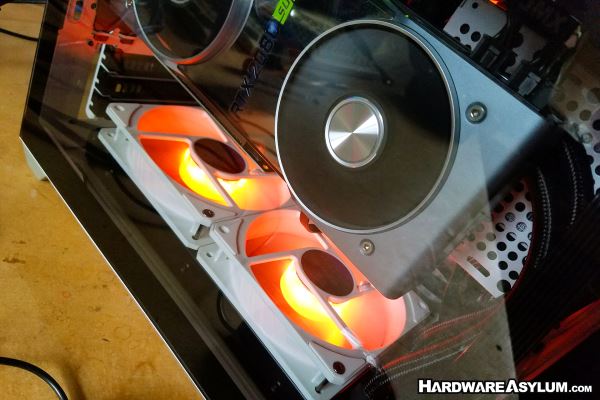 Am not going to say that this case is one of the best ones I have used but, if you consider the form factor and how much power you can pack into an NR200 I would be suprised if you didn't think that.
Specifications
Model Number: MCB-NR200-KNNN-S00, MCB-NR200-WNNN-S00
Series: MasterBox Series
Size: Mini ITX
Available Color(s): Black, White
Materials: Steel, Plastic, Mesh
Dimensions (L x W x H): 376 x 185 x 292mm incl. Protrusions, 360 x 185 x 274mm excl. Protrusions
Volume (exlc. Protrusions): 18.25L
Motherboard Support: Mini DTX, Mini ITX, Max MB size: 244 x 226mm (L x H)
Expansion Slots: 3
5.25" Drive Bays: 0
3.5" Drive Bays: 1 (Max. 2)
2.5" / 3.5" Drive Bays (combo): 1
2.5" Drive Bays: 2 (Max. 3)
I/O Panel: 2x USB 3.2 Gen 1 Type-A, 1x 3.5mm Headset Jack (Audio+Mic)
Pre-installed Fans - Top: 1x 120mm 650-1800RPM PWM (SickleFlow)
Pre-installed Fans - Front: N/A
Pre-installed Fans - Rear: 1x 92mm 650-2300RPM PWM (SickleFlow)
Pre-installed Fans - Bottom: N/A
Fan Support - Top: 2x 120mm
Fan Support - Rear: 1x 92mm
Fan Support - Bottom: 2x 120mm (recommended slim fans for GPUs wider than 2.5 PCI slots)
Fan Support - Side: 2x 120/140mm
Radiator Support - Top: N/A
Radiator Support - Rear: 92mm (not compatible with vertical GPU installation)
Radiator Support - Bottom: 120mm, 240mm, (recommended for custom loops only)
Radiator Support - Side: 120mm, 140mm, 240mm, 280mm, (max width 141mm, not compatible with vertical GPU installation)
Clearance - CPU Cooler: 155mm, 76mm (GPU in vertical position)
Clearance - PSU: 130mm
Clearance - GFX: L: 330mm (incl. power connector), H: 156mm (incl. power connector), W: 60mm (triple slot)
Dust Filters: Top, Bottom, Left side, Right side
Power Supply Support: SFX, SFX-L
Warranty: 2 years
Weight: 4.6 kg / 10.1 lbs
Note: Single slot water-cooler GPUs or vertically mounted GPUs are recommended when using bottom radiator position
As with most of my case reviews I will be taking a look at this case from the perspective of a case modder and focus on things in more detail including build quality, component fitment and cooling