Cooler Master NR200P Max Complete Case Review
Author:

Dennis Garcia
Published:
Thursday, September 16, 2021

Introduction
I was in the grocery line the other day and the young person behind was talking on their phone about computers. They had mentioned how they felt they could build a computer because they were familiar with the different chips and had an idea as to what was needed. This got me thinking about how I learned about computers and what it took to build a complete system. Like everyone I got some help from friends and spent A LOT of time at the local computer repair shop looking over used components and getting advice on what to buy. This harmless interaction would spawn decades of computer upgrades that still continue to this day.
As a knowable computer builder, I know that a PC can be many things. If you consider the MVP (Minimal Viable Product) you only need a Storage Device, Motherboard, Processor, Cooler, Memory, Power Supply, Keyboard, Mouse and Monitor. Most motherboards come with onboard video so if you lay these things out on some cardboard, install a few items, connect power and you have a PC.
Of course, the missing component is also one of the most important. This component can define your build to a certain genre, can ensure it is properly cooled and might even save your pets from an early death. This component is the humble computer case.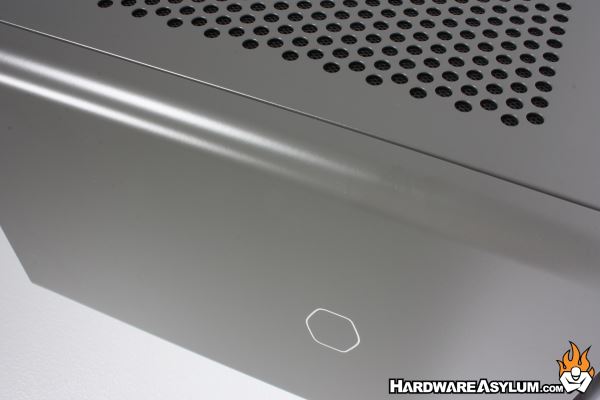 Building a PC from scratch really is an exercise in making a list, checking it four times, checking it again and then acquiring every item on the list. So, what if there was a product out there that could make this process a little easier? An item that included three of the major things you need and allowing you to scratch them all from your list at once??
In this review I'll be showing you the new NR200P MAX from Cooler Master. This is a small form factor case supporting Mini ITX motherboards an comes complete with a PSU and AIO Cooler making it the ultimate package for building a SFF system.
What do you mean Complete?
Now, before we get to far into this article, I would like to mention that I have reviewed every component in this chassis package. First is the AIO and is a typical 280mm cooler using the SickleFlow 140mm PWM cooling fans. The cooler is a special design for this chassis and I would compare it to the Cooler Master ML280 that I recently reviewed but without the mirrored top. Next, we have the 850w 80Plus Gold SFX PSU. This is a PSU that I reviewed back in December of 2020 and was pretty amazing. The PSU is extremely powerful for such a small design and allowed me to run an overclocked RTX 2080 Super along with an overclocked Core i9 10900k and capture a short-lived hardware first place on HWBOT all without skipping a beat.
The final component is based on the NR200 that I reviewed back in January 2021 and was hands down one of the nicest cases I have ever built in both in overall performance, size and ease of use. This enabled the case to capture an Editor's Choice award as a result.
The NR200P MAX is a slightly different design making it a better configuration to be sold as a complete unit over a full DIY like the original NR200. These differences will be the focus of this review.