EVGA DG-87 Gaming Chassis Review
Author:

Dennis Garcia
Published:
Friday, July 29, 2016

Breaking down the EVGA DG-8
There are many aspects to the DG-8 from the new orientation to the plethora of doors and panels to cover the important bits. However, once you remove all that you will find a traditional PC chassis at the heart of it all.
The DG-8 is quite wide and will support motherboards from Mini-ITX up to E-ATX/SSI-CEB/EEB which encompasses just about every high-end motherboard on the market. You will find cable routing holes at the top and left of the motherboard tray with an option to simply drop the cables down into the basement if needed.
You will get support for a total of 12 drives in the DG-87 through a combination of actual drive racks located at the bottom of the case to a number of removable mounts attached to the back of the motherboard tray.
The two lower drive racks are made completely from metal and support three drives each. A slide lock secures the metal trays in place which are drilled for both 3.5" and 2.5" drives along with a third option for a water pump bracket. A hole located at the top of the drive rack appears to be for a return line giving them a dual purpose.
Six drives can be mounted to the back of the motherboard tray including four 2.5" drives and two 3.5". These trays are attached using a series of tabs and a single thumb screw. This allows them to be removed quickly for drive installs or removed entirely if you need extra space for cable management.
Unlike the drive trays at the bottom of the case these are made from black plastic and support both tooled and tool-less drive installation.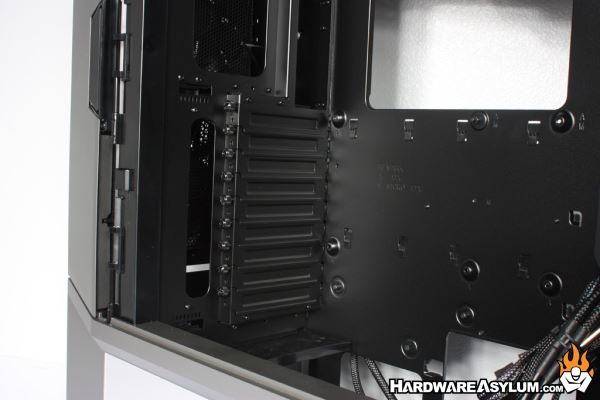 One of the driving principles of the prototype SR-2 chassis was to support 4-way SLI and the DG-8 carries on that tradition. You will find a total of nine expansion slots allowing 4-way support for both Extended ATX and standard height motherboards.