EVGA DG-87 Gaming Chassis Review
Author:

Dennis Garcia
Published:
Friday, July 29, 2016

System Installation
In an attempt to provide a bit of scale I installed the Gigabyte X99 Designar- EX and EVGA 980Ti Classifed to check motherboard alignment and see what kind of cooling clearances there are to work with. The Gigabyte X99 Designare-EX is an ATX motherboard supporting 3-way SLI so there were no issues getting the motherboard installed, in fact there was a considerable amount of room to spare.
Due to the size of the motherboard there is a considerable distance between the board and the allowed cable grommets and really no elegant way to hook up the video card power without having extra wires exposed inside the chassis. Lucky for us EVGA has an elegant solution for this in the form of a shiny black plastic cover.
The cover can be edge lit against the included LED lighting strip and does an excellent job at hiding a good portion of the motherboard and any excess wires that might be showing.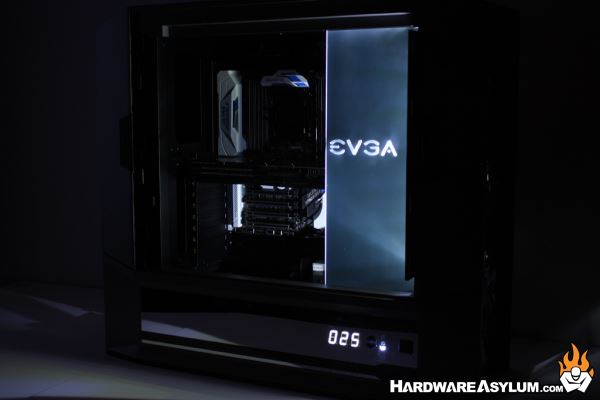 Of course the best part is viewing the EVGA DG-87 at night.
I call this case the "Stealth Fighter" of computer chassis because it is nearly impossible to photograph but looks extremely good when you finally can.
Conclusion