EVGA DG-87 Gaming Chassis Review
Author:

Dennis Garcia
Published:
Friday, July 29, 2016

Introduction
Innovation and Practicality, as a designer I often hear things like "think outside the box" or "let's push the envelope on this one". Those sorts of phrases are an attempt to generate ideas without constraints and to find new and innovative ways to solve a particular problem. An example of this might be a specialized motherboard designed specifically for overclockers or a case constructed from a single piece of anodized aluminum. Both are quite innovative in their markets and highly sought after by certain groups and hold a certain prestige above everything else. However, neither are very practical when viewed outside of the enthusiast market.
In this review I will be looking at the DG-87 gaming chassis from EVGA. This is a full tower gaming chassis that redefines the traditional tower in ways that will make many enthusiasts angry and uncomfortable.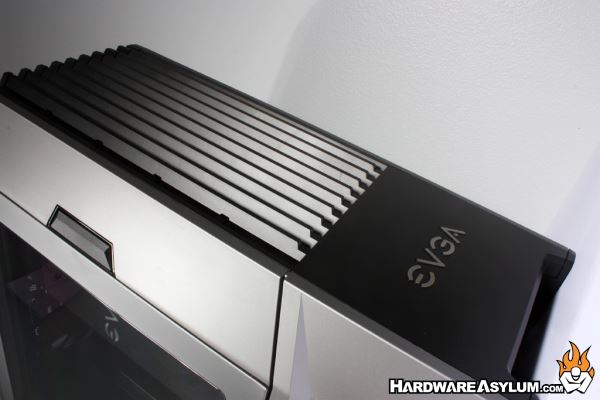 EVGA is one of the few companies that are not afraid to experiment and figure out new ways to push their brand recognition. Sometimes these experiments work out in their favor. For instance EVBot was one of the first hardware based voltage controllers on the market. While most of the basic functionality has been replaced with software tools the device is still in high demand and can still fetch up to 2 bills in the secondary market. EVGA has also gone great lengths to promote enthusiast level overclocking and while dual CPU overclocking (SR-2) and onboard voltage meters (P55 Classified) were "one hit wonders" the GeForce Classified and ACX cooling solution have lived on with notable success.
EVGA has also been experimenting with chassis design for quite awhile. One of the first prototypes I ever saw was at Computex 2010 were it was silently shown holding the new EVGA SR-2. Of course the SR-2 was the highlight that year and nobody paid much attention the case.
The concept for the case was to support large system builds with 3 and 4-way graphics setups which is something EVGA specializes in. While the SR-2 has faded into history the quest for a dedicated EVGA chassis lived on. The new DG-8 series is designed to complement what EVGA does giving users a large chassis for their high-end system builds using EVGA hardware and stuff from competitors.
*As a disclaimer the DG-87 featured in this review is a pre-production model and may vary slightly from the production cases that will be released in August 2016.