EVGA DG-87 Gaming Chassis Review
Author:

Dennis Garcia
Published:
Friday, July 29, 2016

Case Layout and Features
The EVGA DG-87 featured in this review is the top of the line model having the most features you can currently get in the series. You will find a total of four cases in the DG-8 lineup which are all built from the same basic frame and much like buying a car you can buy the model with the features you want/need.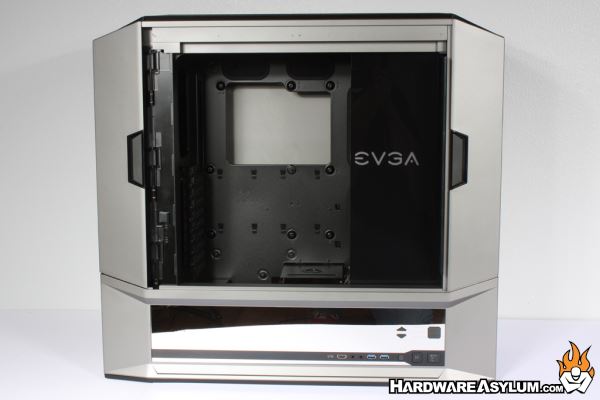 One of the comments you will see in "any" review of the DG-8 is that it is HUGE. The case weighs in at 43 pounds and is 27"(L)x 10.5"(W)x25.25"(H) (686x270x642.45mm) which is over twice the size of a Phanteks EVOLV and slightly smaller than a Cooler Master Cosmos II. While I have seen larger cases the DG-8 isn't all that bad. Most of the weight comes from the included accessories given that you can save around 6 pounds by going with the DG-85 or DG-84
As I mentioned before EVGA has redefined this case so that the front of the chassis is actually the long side that would traditionally be the left side. This puts the window in the middle allowing you to show off your collection of EVGA hardware in style.
It is important to note that EVGA suggests that to view the DG-8 properly you must look at it from the front which is traditionally the left side of the case. From there the right side serves as the primary intake and also features a rather large EVGA logo.
The left side of the case serves as the primary exhaust and is where you would find the I/O connections, PSU and a couple of exhaust fans.
To give the DG-8 its symmetrical look EVGA has added a series of panels and doors to hide everything. The door covering the left side of the case hides all of the I/O connections and comes with two 140mm fans to help pull air out of the case and improve GPU cooling.
At the bottom of the case you'll find the PSU location that is covered in a decorative plastic panel. The panel says "Not a Handle" which is referring to the door above.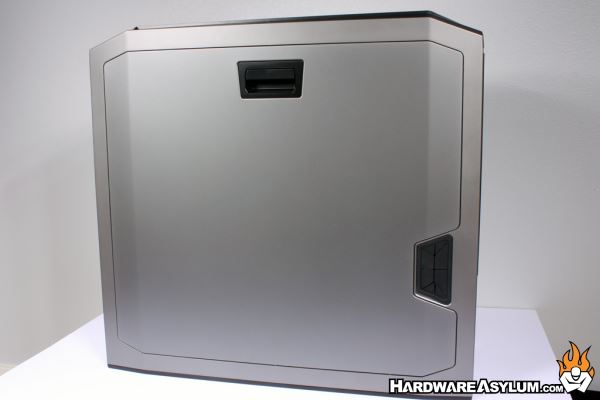 The back panel is constructed from a rather thick piece of metal with a single latch at the top. To the right you will find a rubber grommet for all of your I/O cables to pass.