Fractal Design Torrent High Airflow Case Review
Author:

Dennis Garcia
Published:
Wednesday, August 18, 2021

Introduction
There is a general misconception when it comes to computer cases that cooling is something that just happens. For instance, you add a couple fans to your case and magically think you'll get better performance, higher frame rates and lower temperatures. What people forget is that cooling is tuned to the type if system you are running. Some people want a completely silent PC and then complain when their ultra-high-end gaming PC overheats unless they pull the side panel off. Of course, adding larger heatsinks seems to be the standard solution but, does nothing unless you can get the heated air out and away from the heat source.
This is a classic problem that case modders have been solving for years, something builders have forgotten and YouTube channels love to bash on. Well, what if there was a company that has taken air cooling seriously and created a great looking case on the principle of offering great airflow?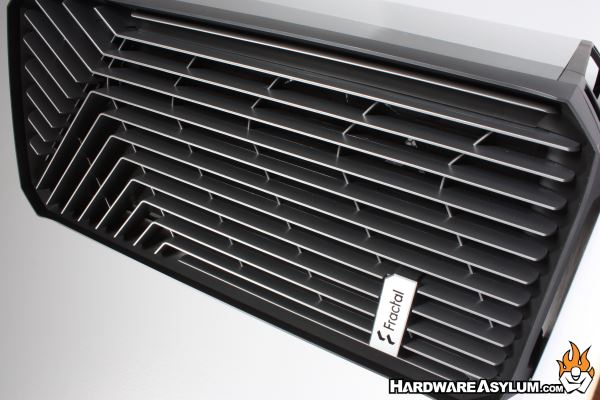 In this review we will be looking at the Fractal Design Torrent. As the name suggests the case is designed to deliver a strong and fast moving "torrent" of air though the chassis to ensure that everything inside is adequately cooled. In addition to the stock configuration the case can also be reconfigured to support a variety of different fan and radiator combos allowing the airflow enthusiast a chance to finally get the performance they deserve.
Key Features
Open front grille and full-length base intake with 180 mm fan support
Newly developed 180 x 38 mm Dynamic X2 PWM and Prisma AL PWM ARGB fans leverage power, size, and thickness for greatly enhanced air-moving capacity
Streamlined open interior with extra headroom for components and cooling
Top mounted PSU compartment with aerodynamic shape and integrated ARGB effects (TG versions only)
Five PWM fans included—three 140 mm and two 180 mm
Both front and bottom panels support extra-thick radiators and push-pull fan configurations up to 420/360 mm
New Nexus 9P Slim PWM fan hub pre-installed
External Velcro tie-downs help manage the power cord and other cables on the rear exterior
Seamless tempered glass panels with bolt-free top-latching mechanism
Integrated ARGB lighting and Prisma ARGB fans use standard 5V RGB connectors for full software control on motherboards with addressable RGB support
Removable top bezel and cable guides with Velcro ties behind the motherboard plate
Two vibration-damped HDD trays and four dedicated SSD brackets included
Integrated support for water-cooling reservoirs on the motherboard tray
Seven bridgeless expansion slots ensure obstruction-free hookup
GPU support bracket included
Compatible with the Flex B-20 Vertical GPU Riser Bracket (sold separately)
Recessed channels along left and right underside edges of the base for adding LED strips
Specifications
Dedicated 3.5" drive mounts: 2
Dedicated 2.5" drive mounts: 4
25" drive bays: ­
Expansion slots: 7
Motherboard compatibility: E-ATX / ATX / mATX / ITX / SSI-EEB / SSI-CEB
Power supply type: ATX
Front interface: 1 x USB 3.1 Gen 2 Type-C / 2 x USB 3.0 / HD Audio / Power/Reset buttons
Total fan mounts: 7 x 120/140 mm or 4 x 180 mm
Front fan: 3 x 120/140 mm or 2 x 180 mm (2 x 180 mm fan included)
Top fan: ­
Rear fan: 1 x 120/140 mm
Bottom fan: 3 x 120/140 mm or 2 x 180 mm (3 x 140 mm fan included)
Dust filters: Front, Bottom
Front radiator: Up to 360/420mm, including 360x180 mm
Top radiator: ­
Rear radiator: Up to 120/140 mm
Bottom radiator: Up to 360/420mm
PSU max length: 230 mm
GPU max length: 461 mm total / 423 mm with preinstalled front fan
CPU cooler max height: 188 mm
Cable routing space: 32 mm
Cable routing grommets: Yes
Fixed Velcro straps: Yes
Tool-less push-to-lock: Both side panels
Captive thumbscrews: HDD brackets, SSD brackets, Top panel, Bottom fan bracket
Case Material: Steel, Tempered Glass, Plastic
Left side panel: Steel or Tempered glass (RGB version: Tempered glass only)
Right side panel: Steel or Tempered glass (RGB version: Tempered glass only)
Case dimensions (LxWxH): 544 x 242 x 530 mm
Case dimensions w/o feet/protrusions/screws: 525 x 242 x 495 mm
Net weight: Solid: 10.4 kg / Black/Gray TG: 11.1 kg / White TG: 10.8 kg
Package dimensions (LxWxH): 640 x 343 x 674 mm
Gross weight: Solid: 13.0 kg / Black/Gray TG: 18.84 kg / White TG: 13.4 kg
As a case modder and system builder I has a firm belief that there is a perfect case design for any type of build be it a silent design, high-airflow design, high-end gaming and even home theater. A computer case needs to be selected for a purpose and even with all that there is still a good chance that the manufacturer may have gotten something wrong or simply skipped something that wasn't important or too expensive.