Fractal Design Torrent High Airflow Case Review
Author:

Dennis Garcia
Published:
Wednesday, August 18, 2021

Top Mounted Power Supply
I find it interesting that Fractal has placed the PSU at the top of the case and when you think about it that does offer the best and most direct option for cooling. The fans located at the bottom of the case can now blow directly up and into your video card and the two front mounted fans can provide a cross-wind to cool CPU heatsinks, motherboard components while providing a primary direction for air to exit.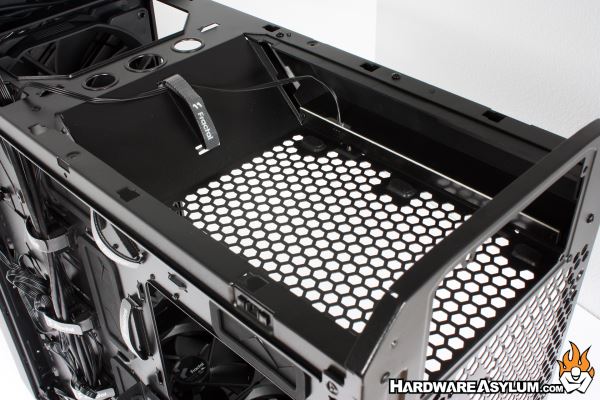 The tray where the PSU sits is designed to handle every PSU on the market and still allow room to route cables. To demonstrate this, I installed an old Cooler Master Silent Pro Gold 1200w that I use when overclocking and as you can see it fits just fine with plenty of room to route what cables I have connected.
Using a much smaller PSU gives you even more room and to demonstrate this I'm using the new Fractal Design Ion+ 2 Platinum. This is a fully modular 850w PSU that features one of the best chassis designs I have ever seen in a PSU.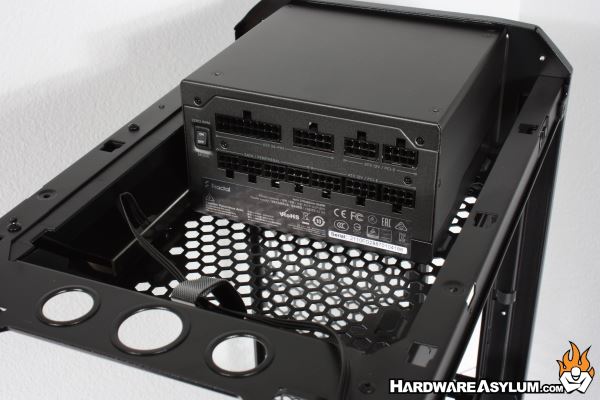 Part of the reason behind the great cable management is the fully open channel between the PSU and the back of the motherboard tray. The area also has a few Velcro straps and a nice hexagon vent to ensure your PSU is getting enough air.