Fractal Design Torrent High Airflow Case Review
Author:

Dennis Garcia
Published:
Wednesday, August 18, 2021

Fractal Torrent Interior and Features
While the outside of a computer case is what everyone else sees the important bits are inside. The tempered glass side panels are screwless and feature steel reinforcement along the edges. This allows them to be latched in place and hinge at the bottom to prevent accidental crashes and drops that seem to be highlighted online.
On the back of the motherboard tray you'll find the primary storage location. Directly below the heatsink access hole you'll find two 3.5" drive trays for rotational HDDs.
To the left and near the front of the case you'll find four 2.5" SSD trays. Both storage locations provide easy installation and cable access and should satisfy the storage demands of any high-end computer enthusiast.
While external USB connections might be limited their connection to the motherboard is not. Both Type-A ports will be served by the standard USB 3.0 header while the dedicated USB Type-C port is using the proper Gen 2 connection.
The Fractal Torrent comes with an amazing amount of fan support and to better control these fans the Nexus 9P Slim PWM Fan Hub is available. This fan HUB supports 12v input and output power while providing up to 3A of current and 36W of power. As the name suggests a Hub allows you to duplicate signals across a number of connections allowing you to provide a single PWM fan signal to have every fan connected to the hub react to those signals.
Power is supplied by a single SATA power connector allowing the fans to run without drawing any power from the motherboard fan headers.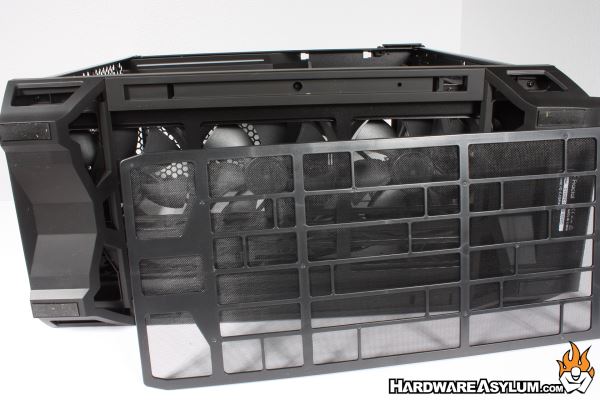 One of my concerns with bottom mounted fans is the collection of dust. Fractal has included a full-length fan filter to prevent some dust from entering from the bottom of the case and it is quite easy to remove. The case feet lift the chassis up 2 inches allowing for adequate airflow so, unless you are a zealot of the 70's shag carpet you shouldn't have any cooling issues.
Otherwise, I might suggest a desk mounted install.