Fractal Design Torrent High Airflow Case Review
Author:

Dennis Garcia
Published:
Wednesday, August 18, 2021

Case Layout and Features
When external drive bays fell out of favor that opened the doors for different ways that a computer case could be constructed. Some simply opened up the front bezel to allow more fans to be installed while others experimented with moving things around. To this day you can still see the traditional ATX case design in just about every chassis on the market including, the Torrent.
The case is quite large and resembles many of the super towers that are common with high-end computer builds. This size is complimentary to the design and is almost required to attain the overall goal of a high performance aircooled case.
You can find the Torrent in several different variants including the review unit which is black with dark shaded tempered glass side panels and included RGB.
The white edition will feature clear tempered glass
The Grey edition is available with lightly shaded tempered glass.
The Black edition is the most versatile offering Steel side panels along with either Light or Dark shaded tempered glass.
Expansion slots number the typical seven with an option to run a vertical GPU using the Flex B-20 bracket. The new bracket occupies the entire expansion slot location allowing for a single GPU to be mounted vertically. It also removes the ability to run any other expansion cards, low profile or otherwise.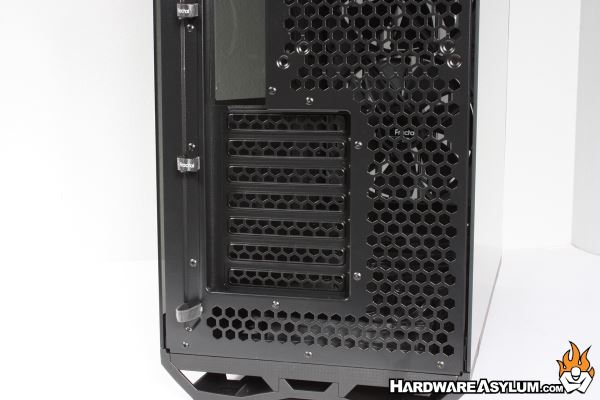 Something we have not seen in a long time is a top mounted power supply. In the mid-2000's case manufactures started putting the PSU at the bottom to facilitate a cleaner install and open up the top panel for more expanded cooling. (Blowhole anyone?)
Fractal has brought back the top mounted PSU in a very elegant way that not only hides the power supply but also allows for excellent cable management.
With the PSU being moved Fractal has also included Velcro straps to help with cable management outside the chassis. The strap is designed for the power supply cable but is large enough to support additional wires and cables.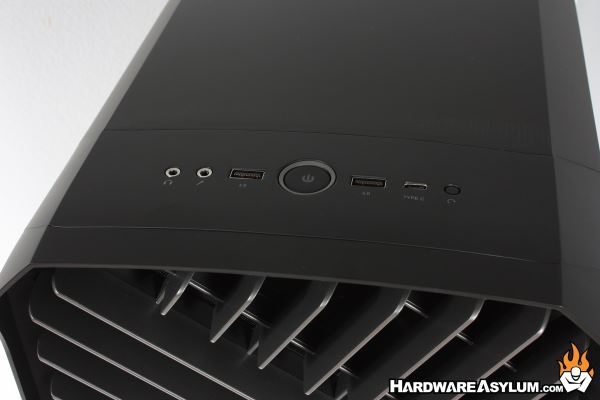 External controls and ports are somewhat limited with the Torrent offering three USB ports which include a single Type-C connection, large power button, reset button and separate ports for headphones and mic.