Fractal Design Torrent High Airflow Case Review
Author:

Dennis Garcia
Published:
Wednesday, August 18, 2021

Torrent Cooling Overview
The defining principle of the Torrent from Fractal Design is airflow. I have reviewed and used some of the best aircooling cases on the market and even modded a few to meet my needs and in every situation the key component is the ability for air to escape.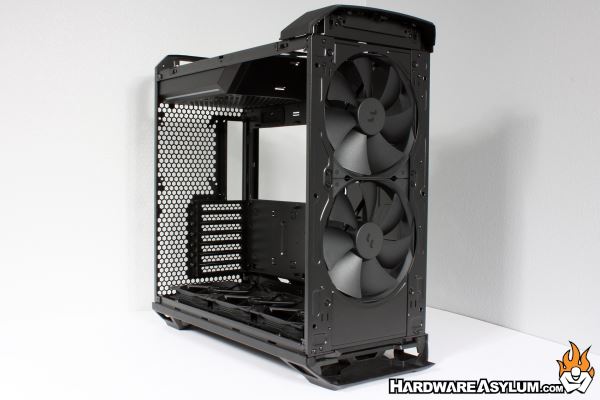 With the four major panels removed you can get a really good idea as to what makes the Torrent such an amazing design. At the front you'll find two monster 180mm x 38mm cooling fans, Dynamic X2-GP-18 PWM. These push 153 CFM @ 1200 rpm with a noise level of 35 dBA at full tilt. Large fans are intended to move a large amount of air but only when air pressure can be maintained. Without pressure air does not move anywhere.
As you can see there is a shroud around the fan openings that is completely blocking any air from escaping out the front of the case ensuring that the air coming in is passing though the case.
For those wanting to run a more traditional setup Fractal has included two fan rails that do a very similar thing. Once you have removed the 180mm fans and fan shroud you'll be able to install 120mm and 140mm fans and enjoy a similar full coverage fan shroud minus the gaps at the top and bottom of the case. These can easily be filled making the overall implementation extremely good.
The three fans located at the bottom of the case are 140mm x 25mm fans, Dynamic X2-GP-14 PWM. These push 105 CFM @ 1700 RPM with a noise level of 33 dBA at full tilt. This location supports 120mm, 140mm and 2x 180mm fans along with a wide assortment of radiators.
It should be noted that there are two channels cut into the bottom panel running parallel to the fan opening. This is designed to hold two RGB light strips to give your Torrent an underglow effect without fully exposing the light strip and ruining the effect.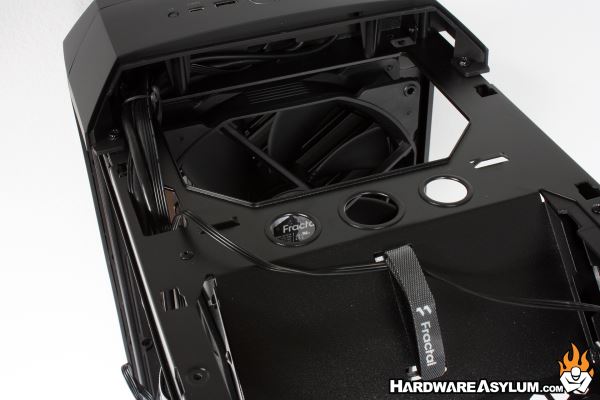 Fractal Design Torrent does support DIY watercooling installations with a provision for a reservoir to the right of the motherboard. Directly above this location is the integrated fill port allowing you an optoin to fill your watercooling loop without completely disassembling the case.
Some installation is required and the parts are not included but, it does give you a factory option that wouldn't require any modification.