Fractal Design Torrent High Airflow Case Review
Author:

Dennis Garcia
Published:
Wednesday, August 18, 2021

Install and Conclusion
To give a sense of scale I have installed the EVGA Z590 Dark motherboard into the Fractal Design Torrent and I must admit, it fits pretty well. The Torrent supports a wide variety of motherboards from the standard ATX, Micro ATX and Mini ITX up to some large designs including the E-ATX, SSI-EEB and SSI-CEB. With the downfall of factory supported overclocking these large motherboards are pretty hard to find except for halo products like the EVGA Dark.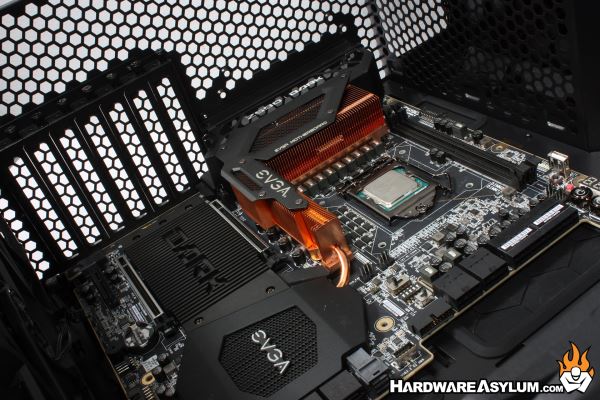 When it comes to fit and fitment the EVGA Dark fits pretty well. There are a few tight spots near the rubber cable grommets which is to be expected considering that motherboard support is simply calling out that the mounting posts are available and, that is about it.
At the front of the case, you can see just how much space is left for a watercooling pump and reservoir, This area can become reduced depending on your fan and radiator combo and the size of the motherboard.
Conclusion
As I had mentioned before I have reviewed a good number of high-airflow cases over the years and even modded a few chassis designs to increase the airflow. While adding more fans helps to get air into the chassis it is important to know how the air will get out which, beings me to my bottom line about the Fractal Design Torrent. The cooling is pretty good.
The entire front panel is a huge and ornate grill that looks like it could have occupied the front of Rey's speeder in Star Wars and helps to exemplify the principle behind the Torrent. Behind the grill you'll find two massive 180mm cooling fans, a full fan shroud and very little resistance between the outside air and the chassis interior.
From there the exhaust simply exists out the back panel which is comprised of a hexagon stamped grill and very little else. Additional cooling is provided by the three 140mm fans at the bottom of the case. These fans have no shroud but offer a universal mounting system to support dual 180mm fans or a trio of 120mm parts depending on your build needs.
Collectively, I am very impressed. The case features a respectable size and is not too heavy out of the box. The tempered glass side panels are made from heavy gauge glass and feature steel frames for strength and offer attachment points securing them to the chassis. Cable management seem to be on point with excessively large areas to store cables including a very impressive PSU cage.
Personally, I would have rather seen the case feet flare out to provide more lateral stability and I find it strange that only four external USB ports exist and that the analog audio jacks are not combined.
Good Things
Dual 180mm Fans
Support for Quad 180mm Fans
Allowances for DIY Watercooling
Fan Shroud(s) Included
Top Mounted PSU with Cover Panel
Great Cable Routing
No "Dedicated" Vertical GPU Option
Awesome Front Bezel
Bad Things
Case base seems too narrow allowing case to rock
Vertical GPU insert blocks all expansion slots
Only four USB ports
No combined audio/mic jacks
Hardware Asylum Rating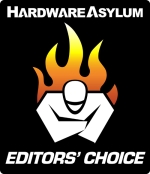 Fractal Design Torrent High Airflow Case Review
Editors' Choice
https://www.hardwareasylum.com