Thermaltake Core P3 Pro Tempered Glass Case Review
Author:

Dennis Garcia
Published:
Monday, February 13, 2023

Install and Conclusion
While the Core P3 Pro might be a smaller chassis it does support up to E-ATX motherboards. For this review I installed an Aorus Z690 Elite AX motherboard to provide a sense of scale to the chassis and motherboard tray.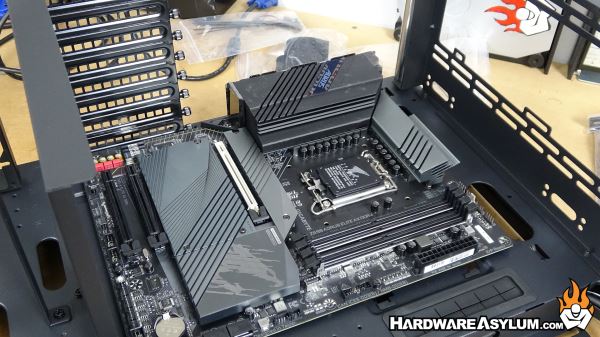 Conclusion
When I reviewed the Thermaltake Core P6 TG I was extremely impressed with the overall design and modding options. However the primary difference was that the Core P6 was designed to be a full sided chassis, it came with all four sides, the hollow motherboard tray and back panel and was finished off with a thick sheet of tempered glass. In terms of size, the Core P6 and Core P3 are virtually identical with the down-market version coming with fewer components and fewer motherboard support options.
When it comes to the Core P3 Tempered Glass Pro I have the same overall feeling. The chassis is extremely well designed and has a ton of options allowing you to build just about any type of system you want. If you are into full DIY watercooling the case supports up to a 420mm radiator in the motherboard tray along with 360mm or 280mm radiator on the included fan panel. Assuming you are in the low rent category you can easily replace the full waterloop with AIO coolers or even standard heatsinks and be happy with your build.
As a case modder I enjoy the modular aspect of the Core P3 TG Pro and find the build freedom to be a welcome addition when compared to a more traditional case. However, the fundamental flaw is when it comes to the universal fan mounting positions and how they offer very little back pressure. Back pressure is required for air to flow through a space and without it the air passing through a fan will often loop back out the case nearest the fan providing the flow. This effectively short circuits airflow through the case and does nothing but provide surface area for RGB light shows.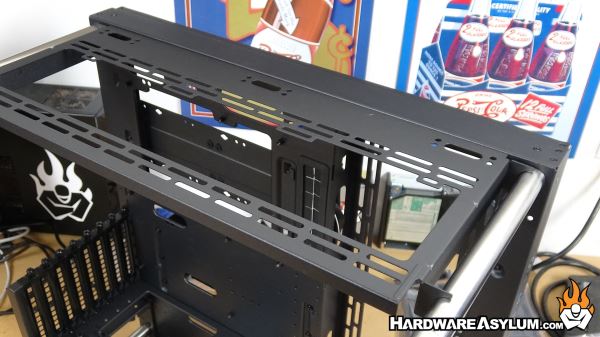 As you saw in this review the Core P3 TG Pro only comes with a single fan panel making the push and direction of airflow to be virtually non-existent. While CPU and GPU chips are covered by active cooling or waterblocks that leaves no airflow for motherboard heatsinks or M.2 drives.
This brings me to one of the most controversial issues and is how the Core P3 TG Pro is shipped. As I mentioned early in this review the P3 was shipped as a flat pack. That saves money on shipping, money on storage and even money at the factory since the case doesn't need to be assembled, just put in a box.
That puts a larger responsibility on the buyer to not only understand that an unassembled chassis requires that you actually build the case but also that if you aren't comfortable building a computer then you are not likely the target demographic for the Thermaltake Core P3 Tempered Glass Pro.
However, if you understand that "some assembly required" actually means that you will have to assemble the case and are planning to do a little something extra with your build then look no further than the Core P3 TG Pro. Sure, there are missing panels but, you can pick up a distro plate to fill the gap and who needs the silly exhaust fan at the back of the case.
Simply put, If you know what you are getting into then the Core P3 might be one of the best cases for a custom show build that will amaze your friends and boggle your mind every time you look at it.
Good Things
Perfect Canvas for DIY RGB Water Cooling
Horizontal or Vertical GPU support
Multi PSU Mounting
Great Case for Custom System Builders
Thick Tempered Glass
Requires Assembly
Bad Things
Requires Assembly
Case is never fully enclosed
Not good for aircooled builds
Thick tempered glass adds a lot of weight
Doesn't include any fans
Would rather not see the PSU
Hardware Asylum Rating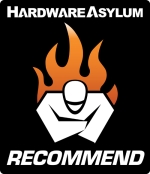 Thermaltake Core P3 Pro Tempered Glass Case Review
Recommend
https://www.hardwareasylum.com