Cooler Master MasterAir Pro CPU Heatsink Roundup
Author:

Dennis Garcia
Published:
Monday, October 31, 2016

Introduction
One of the most popular and best selling heatsinks is the Cooler Master Hyper 212. I was able to review this cooler when it first launched eight years ago and then again two more times as Cooler Master revised the design. The current iteration called the Hyper 212 Evo was released in 2011 and uses the same four heatpipe 120mm tower configuration with a revised core contact design to increase performance. While the cooler is very basic and won't set any overclocking records it does come with an excellent price to performance ratio at an extremely attractive price point.
Over the years many companies have tried to capitalize on the popularity of the Hyper 212 Evo market with very little success. The fact that market demand for the Hyper 212 is still high after five years on the market says a lot about the product and/or how affordable it is especially as a replacement cooler for OEM configurations.
In this review I'll be looking at the next generation of the Hyper 212 called the MasterAir Pro 4 and MasterAir Pro 3. While there are some similarities to the Hyper 212 cooler it is not a replacement but rather a new generation cooler using the latest Cooler Master MasterFans and a few cosmetic upgrades. The new MasterAir Pro coolers are also priced higher than the existing Hyper 212 Evo and offer a number of enhancements for the money.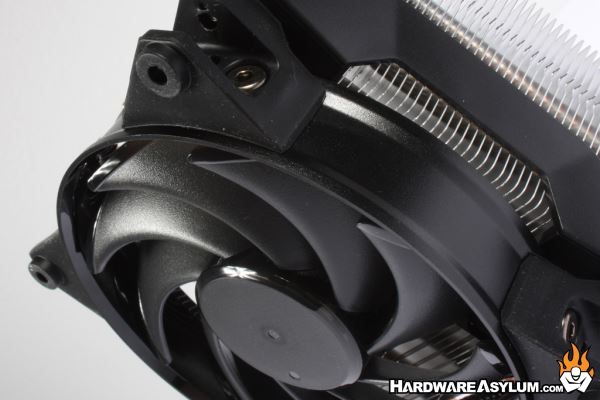 The two coolers in this review are built on the same basic platform with several notable differences. Both coolers are core contact designs meaning that the heatpipes make direct contact with the processor. This design reacts extremely well to temperature variations and will remove heat quickly provided they are operating below their thermal capacity. Once you start pumping in more heat than it can dissipate the processor temperatures will skyrocket. The radiator and mounting hardware are the same however, MasterAir Pro 3 is physically smaller at 92mm and comes with three heatpipes whlie the MasterAir Pro 4 is a standard 120mm tower with four heatpipes in a staggered configuration.