Cooler Master MasterAir Pro CPU Heatsink Roundup
Author:

Dennis Garcia
Published:
Monday, October 31, 2016

Cooler Master MasterAir Pro 4
The Cooler Master MasterAir Pro 4 is a 120mm tower style cooler that comes with four heatpipes in an alternating pattern. While the MasterAir Pro 3 is designed for silent and low power configurations the MasterAir Pro 4 can handle a little more.
Included with the MasterAir Pro 4 is a single MasterFan Pro 120 Air Balance with a noise level of 30dBA @ 2000rpm. The fan is a PWM design but also comes with a three position speed limiter allowing you to control noise level and performance beyond what the PWM controls allow.
Radiator fins are quite thick adding to the quality of the heatsink design and allows them to be directly bonded to the vertical heatpipes. The edges of the radiator are free of locking tabs but can still be damaged if impacted "just right".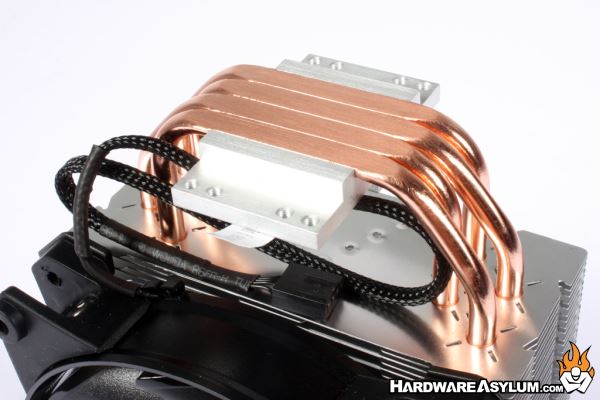 MasterAir Pro 4 features a new core contact heatpipe design that Cooler Master called CDC or "Continuous Direct Contact Technology 2.0" The main feature is how they compress the heatpipes together to provide more surface area at the base of the heatsink and better contact with the CPU.
Given that we have four heatpipes with this cooler it is important that all of them make contact with the CPU to ensure the best thermal transfer as there is nothing more wasteful than a heatpipe not engaged because it is hanging off the side or is too far away from the actual chip.
You will notice a couple of patterns on the radiator fins. The first is found around the heatpipes and are a patented technology Cooler Master calls X-Vents. These are very interesting in that they guide heat away in a specific pattern and also create an air pocket to promote cooling at the source. The second is located in the middle of the radiator as a pattern of holes and dimples in a "V" configuration. These help guide airflow towards the heatpipes and promote better cooling.
Like with the MasterAir Pro 3 this cooler comes with a single fan but with brackets to install a second for a proper push pull configuration. Also while it isn't documented the V pattern also points opposite to how air should flow though the heatsink.
Think of it as a plow splitting dirt into two mounds, in this case the mounds of dirt are the individual heatpipes and we want more airflow there for the best efficiency.