Cooler Master MasterAir Pro CPU Heatsink Roundup
Author:

Dennis Garcia
Published:
Monday, October 31, 2016

Conclusion
In this review I looked at two new heatsinks from Cooler Master called the MasterAir Pro 3 and MasterAir Pro 4. These are two heatsinks born from the essence of the Hyper 212 Evo. The intent was to compliment the popular design while offering an alternative with the latest Cooler Master technology.
The MasterAir Pro 3 and MasterAir Pro 4 heatsinks are built with the same level of thinking. With the MasterAir Pro 3 we have a smaller 92mm tower with excellent construction, three heatpipes and an improved contact design. This cooler would fit perfectly in a small form factor case where a standard 120mm tower was too big. The larger MasterAir Pro 4 is a 120mm design built using the same technology with more heatpipes and more surface area. As a result it performs better and will fit in larger tower style cases where space is not an issue.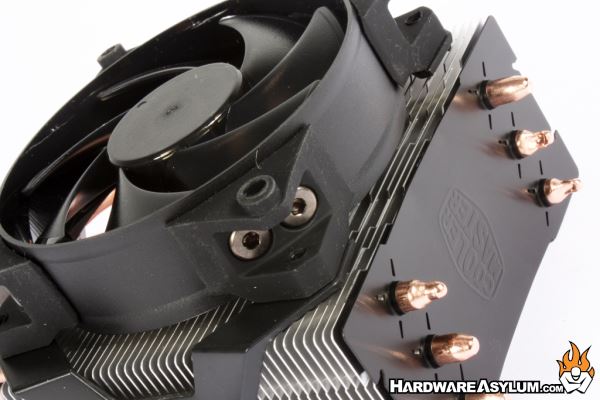 Installation and testing went rather smooth. You can install the coolers one of two ways. The first is the older bracket method where you build up a frame to mount the heatsink to while the newer method uses Intel style push clips. In terms of time both methods are a wash and while I hate to admit it I'm a fan of the old mother over the Intel style.
Performance was really good. I wouldn't suggest running the MasterAir Pro 3 on a LGA 2011. The CPU TDP is too close to the thermal limit of the cooler however, it will feel right at home on any LGA115x and even support some light overclocking. For more performance the MasterAir Pro 4 is a decent choice and based on my testing should work well on LGA 2011 and six core AMD and any overclocked LGA 115x.
Good Things
Inexpensive Cooler
Quality Construction
MasterFan Air Balance Fan Included
Dual Mounting Hardware
Core Contact Design
Easy Fan Removal
Bad Things
Hardware Asylum Rating